Your Pet Loss Poems'The Best Dog We Ever Had'
by Linda Bethke
(Minnesota)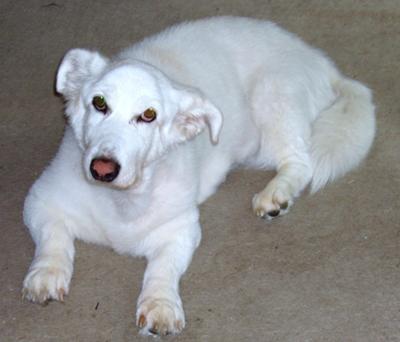 Our Dear Rudy 7.20.2010
She was as odd looking as a dog could be

Long, white, short legged with funny ears

Not enough Bassett, not enough Lab

To make claim to elegance or beauty.

She had her quirks

Fear of men and hiding under tables

She was smart, that day at the Pound,

When she raised her paw to shake hello

And melted out hearts -- as if she didn't know.

She raised our puppy even when she was new;

Ever devoted, always true.

When times were dark she guarded us

Always watching with her sad dark eyes

Not just mine or his but truly ours.

And even when we couldn't find a kind word for the world

On one thing there was no dispute

She was the best dog we ever had.

Age took her unexpectedly

One moment running free

The next paralyzed and confused

But always faithful, ever true.

I thanked God she didn't seem to know

That everything would change that summer's day

When she lay by the screen door,

No longer wanting to go out to play.

We held back our tears so she wouldn't fret

Knowing she only cared about our thoughts even then

Eleven years and she was always a surprise to us

So much more than a dog should be

The best dog we ever had; Rudy.

Click here to read or post comments
Join in and write your own page! It's easy to do. How? Simply click here to return to Your Pet Loss Poetry.