Your Pet Loss Stories'A Lifetime In Two Short Years'
by Ed
(Denver, Colorado )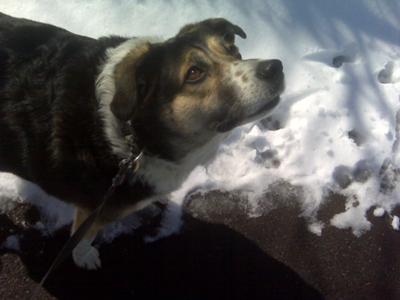 In 2008 I lost my miniature Schnauzer "Fritz" to old age.. I brought Fritz home when he was only two months old, and sent him home to God when he was almost 15 years old. He was my friend, and loyal companion. I will miss him always.

Shortly after Fritz passed I found myself at the Denver Dumb Friends League where I met CoCo - CoCo was a 5 or 6 year old Border Collie, Aussie Shepherd that had endured an extremely difficult life.

CoCo came home with me that same day and it was if she and I had known one another all our lives.. there was a short "readjustment" period but after she realized she was loved, and had a forever home, she dialed right in.

Life with CoCo was great - she was incredibly smart, obedient, protective, loving and playful. Truth be told, I can't recall ever having a bad day with her.

CoCo went with me everywhere she could and she loved car rides! Next to long walks and tummy rubs, rides where her favorite.

It's impossible to detail two great years in this short space.

All I can say is she is loved beyond words, and missed beyond measure.

RIP girl.. I'll meet you at the Rainbow Bridge.
Click here to read or post comments
Join in and write your own page! It's easy to do. How? Simply click here to return to Your Pet Loss Stories - Dog Stories - A - C.