Your Pet Loss Stories'Bandit'
by Rita
(Voorhees, New Jersey)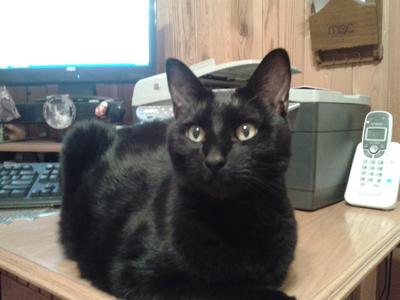 Bandit
What a wonderful, spirited, opinionated and fiercely loyal companion.

He was my first cat. I was highly allergic as a child, but at the time my fiancée had a beautiful Grey Tabby that I grew to love and wanted to have another for company. When I did not know was when you have a 15 year old independent cat you do not bring another into the mix. These two never really got along but Bandit was my responsibility and the cats tolerated each other. In the meantime I adopted two more shelter cats and we became a house of two Human and four cats.

After a few years our eldest became sick and we had to keep her separated from the rest and about 2002 she had to be put to sleep which was gut wrenching and we missed her terribly.

My Bandit became the number one cat. He was a beautiful blackish ebony cat who moved with such grace and sat perfectly like a beautiful vase. We always had our challenges but I will always remember how he always cuddled with me when I watched TV and comforted me when I was ill. He had a comforting purr that always made me feel better, even after a stressful day at work. He always sat on the toilet to watch me apply my makeup as well as get in the shower as he was never afraid of water.

He started getting sick last year, and never had the same vigor so I made the decision to have him euthanized before he would be too sick to care for himself. The last week was agonizing and the last day absolutely the worst day I can think of he looked so healthy and he never knew what was coming. When it's all over you blame yourself but you know you did the right thing.

I have been looking for his beautiful eyes to look into mine and they are just not there. I hope and pray wherever he is he is happy, healthy, and having a wonderful time. I will never forget you my beautiful, faithful friend who was there through my happiness, tears and all the hard times we have been through in the past couple of years.

You will always be missed and I will see you again when it is my time to be there with you sometime in the future, when I can graze your forehead and have your warm body nuzzle against mine. I love you and will never forget you my faithful friend.



Join in and write your own page! It's easy to do. How? Simply click here to return to Your Pet Loss Stories - Cat Stories - A - C.