Your Pet Loss Stories'Basil'
by Sarah
(Rutalnd VT)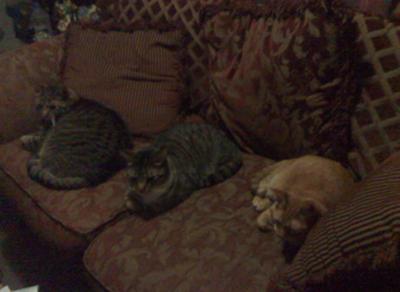 I met Basil 6 and 1/2 years ago. I was a shelter attendant for the local humane society, Basil then Meatball was being dropped off. Working at the humane society I heard my share of the heart breaking stories, helped with many of their intakes and happily some of their adoptions.

Basil's owner came storming in with him scruffed over her shoulder. She threw him at me and stated "He plays, he is mentally defective and although daily we beat him he won't learn not to play". I quickly made her sign away her ownership as the cat sat in my lap with saddest look on his face. We didn't have room for him, I was supposed to turn him away. I knew my boyfriend at the time would never let me have another cat. She finished her intake paper work while describing the horrors they put this cat through to stop his normal cat behaviors. She couldn't tell me if he was 1 or 6 yrs old. "He is just a cat who cares". She then asked me for kittens she could train up "right" I kicked her out of our building!

Basil adored me and only me from day one. Snuggling under my chin and leaping from his cage into my arms as if I were his own special savior. With this said he bit every other staff member and did not like being restrained at all. My manager said we would have to put him down. the trauma of his past was too much for him. I had promised him though. I had promised from that day on life would get better for him. I ended up guarding his life for the next four months.

I already had two cats and you learn working in the shelter you can't save them all. I was reminded of this daily! But he deserved to know love! Finally my BF got tired of no days off and I was allowed to bring Basil home. It was a tough long road. His emotional scars were deep. His health was never wonderful. We went through a heart episode as the vet called it. Something wasn't normal but it wasn't that abnormal either. We also learned at this time he was closer to 6 then three. We had a few seizure episodes but the last three years he seemed to be doing great.

He settled in to a wonderful cat who loved the sunny spots, toys and me. A month ago I noticed my kitty losing a lot of fur. Then the hairballs started and wouldn't stop. We went to the vet today to learn his intestines had hardened, his colon was enlarged more than likely cancer and although I feed a diabetes and urinary tract perscription diet we were sure he had diabetes and cushings.

I made the very hard choice to send one of my fur children over the rainbow bridge today. After all he went through I hope his last 6 years were happier than his first he knows he is loved...

Wait for me over the Rainbow Bridge Basil.
Join in and write your own page! It's easy to do. How? Simply click here to return to Your Pet Loss Stories - Cat Stories - A - C.