Your Pet Loss Stories'Benson'
by Tracey
(Rotherham)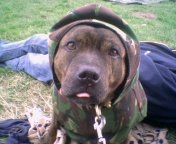 Benson our life
I lost my beautiful dog on the 18/01/10 44 days ago and I'm totally devastated. He was mine and my partners child, he was fifteen years old and the most gentle loyal staffordshire bull terrier. I miss him immensely and my heart is broken in two he was our life he was my shadow and I was his. Sorry his name was Benson by the way and I can't tell anyone it gets easier because it's not at the minute.


I miss everything about Benson his wagging tail, his bark, his smell, him cuddling up in bed with me. I still cannot empty his food cupboard and all his food and treats are still there. Little things set me off like when I went shopping to the supermarket and automatically went down the dog food aisle and then realised I did not need to.
He was everything to us and the best boy ever. I'm so glad he came to us by fate and we had fifteen beautiful years together. RIP my beautiful baby until we meet again.
Love Mummy and Daddy xx
Click here to read or post comments
Join in and write your own page! It's easy to do. How? Simply click here to return to Your Pet Loss Stories - Dog Stories - A - C.