Your Pet Loss Stories'Bentley'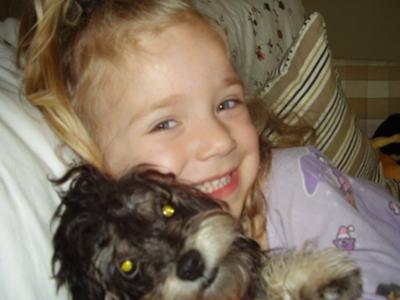 Bentley
We found Bentley at a difficult time in our lives - in the middle of building a house, financial strains and new jobs. I was slow to embrace this little puppy into our family - when she was 6 months old, she had an accident with another dog and lost her eye. She was brave and recovered with attitude to spare :) Needless to say - we bonded during this time. My daughter said that, "Bentley was too pretty" before she lost the eye.

This little soul was love and joy personified!!! She had so many kisses, she frequently kissed the air :)

Last week, Bentley got out of our back yard and was struck by a car 10 minutes before I got home. The people who hit her picked her up and clearly saw she was no longer with us. They then placed her on the grass by some shrubs - they treated her with respect.

I feel immense guilt that she got out of the yard, that I was not home etc. and am amazed by the thickness of my grief.

She was loved and will certainly be missed.

I love you Bentley.
Click here to read or post comments
Join in and write your own page! It's easy to do. How? Simply click here to return to Your Pet Loss Stories - Dog Stories - A - C.