Your Pet Loss Stories'Brandy: God's Greatest Gift To Me'
by Charles Tagg
(San Jose, California)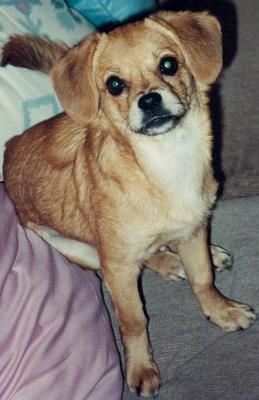 Brandy my angel
So it's been less than 72 hours since I had to give Brandy back to God and another sleepless night for me. The loss I feel is immeasurable yet I'm beyond grateful for the gift God gave me in my girl Brandy. I sit here in tears writing this, both tears of sadness and happiness. Sad over my loss yet happy at the same time remembering all the happy nearly 19 years I was blessed with her. No matter how great my loss, I would do it all over again one hundred times.

Brandy was loved by and gave love to so many. She was there for me and comforted me in ways only animal lovers know. She was my most reliable love and got me through divorce, my mom's death, multiple break-ups, moves across the country and more. No matter how down I was, I could always rely on her to bring warmth to my heart even at my saddest moment. I think I relied on her more than she on me.

On our last day together, I laid her on my bed and through tears sang "You Got a Friend" by James Taylor. It might sound crazy to some, but I literally asked her if I was doing the right thing and if she was ready to go. Her head nodded a yes. This coming from my girl who couldn't walk on her own for the past 48 hours. I debated on being there with her at the final moment when my sister reminded me how Brandy had been there for me for almost 19 years. Even though it was the most painful thing I've done to date, I wouldn't have changed a thing. It was as peaceful as passing could be.

I want everyone reading this to know that death has no victory! Regardless of your faith in whatever you believe, love does not die! I know the loyal and unconditional love Brandy and I shared was a gift to me that I have learned much from. I will soon heal and share that love again with another as I hope all of you will too =)

Thank you very much to Bunny for this site. It has helped me more than I can say through this time of need. I sincerely wish all of you comfort, peace and love. God bless you all!
Click here to read or post comments
Join in and write your own page! It's easy to do. How? Simply click here to return to Your Pet Loss Stories - Dog Stories - A - C.