Your Pet Loss Stories'Bronze'
by Kerri
(Washington, DC)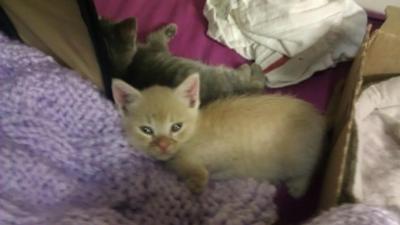 I became a foster for the local shelter in DC this summer but it wasn't until October that I picked up my first litter of kittens.

In the litter there were three kitties, Bronze, Kenya, and Ayana. At 17 days old, they were all weak, undernourished, and full of worms when I got them on October 2nd. Ayana and Bronze were weaker, but Bronze was definitely the runt in the litter.

While only two weeks ago did Ayana show signs of improvement and begin to play with her sister Kenya, Bronze remained weak. He slept with me almost every night on my pillow and cuddled up against my chin and hair to stay warm. He couldn't jump off the bed like his sisters and had a powerful, strong meow whenever he needed to get down to eat or go to the bathroom. He didn't seem to put on weight and I was treating him for ring worm as well. I always would come home and hold him as he purred loudly.

Finally, on Thursday, November 3rd, I came home and he wasn't meowing like he usually does. He ate very little and his coordination was off. I rushed him to the hospital. He was unresponsive when he arrived but within 20 minutes and getting fluids from the catheter, he improved and was meowing loudly again. I was hopeful for him.

However, by the next afternoon, he became worse and there wasn't much the vet could do since he only weighed .8 oz at 6 weeks of age. They couldn't even draw blood since he was so tiny and they said he probably had many things wrong with him, being such a weak runt.

I came today to visit him with a friend. After they brought Bronze to us wrapped in a towel, we talked to him and he seemed alert as to who we were. He could hardly meow at this point but still tried. As my friend held him after I did, he passed away in her arms. It was as if he had waited for us to come back to the hospital before he left us.

My friend had taken care of him for a day the week prior and had bonded with him, growing strongly attached as well. We couldn't help it, since he was such a sweet little guy. He was loved and will be sorely missed by his sisters and everyone who had the chance to know him during his short time on earth.