Your Pet Loss Stories'Cassie's Story'
(Bassett Hound died of Lymphoma)
by Lisa Hinton
(Tuscaloosa, AL, USA)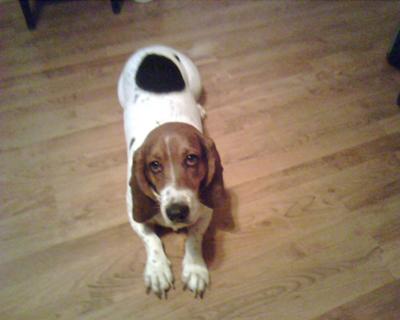 Cassie was born May 2005. She was diagnosed with Lymphoma November 10, 2008. On February 9, 2009 (my birthday) we found out that the cancer had spread to her liver and lungs. At this time we put her on pain med's. March 24, 2009 she had gotten so bad that she couldn't control her bowels and she couldn't drink or eat anything. She weighed 59 pounds in February by March she had lost 20.9 pounds.

I finally had to make the decision to let her go. I had to put her down yesterday at 5:00 I held her head in my hands while she went to sleep. That was the hardest thing I have ever done and my Husband couldn't be there so I had to do it by myself. We took her over to my land in Gordo and buried her there. I planted some flower seeds on her grave so that we might be able to enjoy seeing beautiful flowers when we visit her grave.

My Husband doesn't really know what to do. Last night on the way home I just broke down crying in the car and all he could do is hold my hand. I kept thinking of the day I got her when she was a puppy, she was so sweet and tiny. She was a big surprise for my Husband, he had always wanted a Bassett hound. He kept telling me that she was the best dog he has ever had, and that he doesn't understand why this had to happen to her. She was only 4 years old, she would have turned 5 in May.

It is just so hard knowing I didn't get that much time with her, but the time I had was precious. I just wish I would have known this at the time. I would have done so many things different. I hope everyone understands the grief we are dealing with right now. I am so thankful for everyone's support. Please love your pets because you never know what tomorrow may bring. And for those who don't understand how we could feel like this about a dog, think of her as our child. We have no children so our pets are our children. We just lost a child, our little girl, to cancer. Please be a little sympathetic.
Click here to read or post comments
Join in and write your own page! It's easy to do. How? Simply click here to return to Your Pet Loss Stories - Dog Stories - A - C.