Your Pet Loss Stories'Choco my Lindo'
by Tanya
(Pflugerville, TX, USA)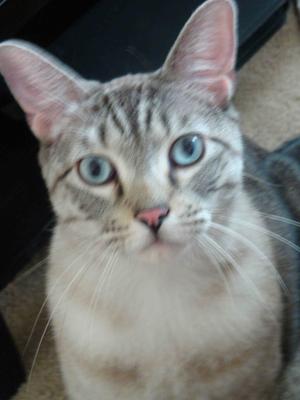 Dear Choco

It was a little over three years ago that I saw your beautiful face on Craigslist and I said to myself "This cat is for me, this is my cat." You left me too soon, we didn't have enough time together. I can't believe I'll never hear your voice again. See your face again. This is too much it's too hard. I've had cats and lost them, death is part of life. But this seems so unfair, when I think about how your life began, in a foster home. How you were with a couple that gave you back how awful that must have made you feel. But you were ours, you were our baby, the first cat we adopted after moving to Texas.

The first time I heard you growl I almost lost my mind. I knew you were special but growling made you awesome. But then you pulled out all your tricks like smacking your gums when hungry. Honestly, you looked so cute with your little cheeks going up and down, your head cocked to one side, and where did that smacking noise come from? Lets not forget your ability to go into full meow with socks and stuffed fish in your mouth. What talent. And always at 2 or 3 in the morning.

I'd scoop you up and squeeze you, smell your breath. Everyone thought that was gross but they didn't understand. You were so soft, your toes were so chunky. My favorite thing to do was spread your feet and smell between your toes and you let me. I can't believe your gone.

You're fascination with socks drove me crazy sometimes. Waking up and finding 3 or 4 socks between the kitchen and family room floor drove me crazy. But what I wouldn't give to wake up and find socks on floor tomorrow.

It's impossible to be in this house without you. Everywhere I turn I expect to see you, To find you curled up sleeping. This is so unfair. I hold on to you. it was hard to leave you at the vet and know that would be last time I would feel your fur, see your face. Touch your paws. This can't be happening. The image of you on that table is heart breaking. You'd always be waiting for us when I'd walk through the garage door. But I came home Tuesday night and you weren't there.

Choco I hope you knew how happy you made us. I hope you were happy with us. I hope you knew we were your family. I love you so much my sweet cat... Choco your lindo, choco your lindo, choco your lindo.