Your Pet Loss Stories'Chocolate aka Coco'
by Kimberlee
(Missouri)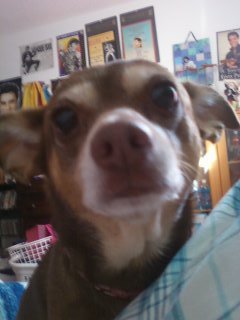 Coco 12/7/2001 - 4/26/2011 R.I.P.
Coco was born on December 7, 2001. She was Chihuahua Terrier mix. Coco was very unusual dog. She was a loner type dog but having two other dogs around she learned to live in harmony. Coco was my sweet girl born on my 16th birthday. I knew she was destined for me and I wanted her because of her birthday. I took her home and gave her the spanish word for Chocolate but we called her Coco for short.

Just over the past couple of years Coco began to change for the bad. She had a real bad anger problem. She would act like she was wanting to be loved but when you loved her she snapped. You couldn't walk into the same room without her snapping, you couldn't operate a vacuum cleaner without her attacking it.

Last few weeks she had being sick with some stomach virus. I'd take her to the vet and the vet would give her antibotics. I had just took her to the vet for the virus last Friday (4/22/11). Early monday afternoon she took deadly turned for the worse.

Coco had jumped up on my Mom's bed and stood next to my three year old Chihuahua Daisy. Daisy was just laying next to my Mom when Coco had attacked Daisy. Daisy was not hurt thank god. But we knew right then that we needed to make a decison. Tues morning she acted like she wanted to be loved and as I was petting her she snapped and attacked me and then went after Daisy again!!!! I knew right then I need to make the decision quick.. I didn't want someone to visit and get hurt trying to pet her.

I drove out to the vet crying. Got to the vet and the vet looked at her and said that she had changed since he saw her the previous week. He feels that she had a brain disorder of some kind. Something probably hereditary or even something caused by the virus or worse the bump that was on her lower back was cancer and had spread. He tried to give her a exam but couldn't because of her anger.

He told me it didn't look good. Even if he could figure out what the problem was there was no hope. She would just keep slipping further further. They finally deemed her senile. Coco was put to sleep at approximatly 2:30 pm that day. I made the decison for her health and everyone around her.
Join in and write your own page! It's easy to do. How? Simply click here to return to Your Pet Loss Stories - Dog Stories - A - C.