Your Pet Loss Stories'Farewell Cosmo'
by Aimee
(Plumas County, CA)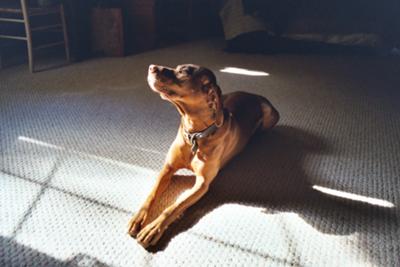 Cosmo in his sunny spot
My 12 year old male Vizsla Cosmo was struggling with breathing problems, later diagnosed as pneumonia and treated with antiobiotics. An X-ray showed he had megaesophagus, a problem with his esophagus muscles. After a month or so, one morning he was anemic and having mild seizures. It was so frightening, and I was very ill as well (we spent the last few days in a "sick bed" together.)

I took him into the vet on a Sunday and he stayed overnight, the next morning the vet called and said he was doing very poorly. I knew that morning I had to get to him as soon as I could. When we arrived we were told he was bleeding internally, likely from a rumptured tumor. (We had been out walking just a few days earlier!) The nearest animal hospital with needed blood is over an hour away, and the outcome for surgery was not good anyway, but I couldn't decide what to do... my husband felt it was time to let Cosmo go; I felt I had to do whatever I could for him, but it was a dire situation. He looked at me with such a yearning, I wish we could have just gone home.

As we talked with the vet, the tech. came in and said Cosmo was dying, so I rushed to his bed and held him as he took a last glimpse at this world on Feb. 7, 2011. Oh how I miss that good boy and his steady companionship! He was my emotional protector and comfortor, shielding me from pain and sorrow; and my faithful companion. He entered the world and left it in my hands. His Mom Ruby died (at 16 years!) just six months earlier and Cosmo seemed to age so quickly after that. I think he missed her too much to stay here.

It's hard to believe how sick he got so quickly after such a healthy, happy life. He gave me 12 years of love and joy. We will plant a memorial in the garden with his ashes and take some to his favorite lakes and streams. Farewell Cosmo, I hope your spirit is free and you are with your mom, and that we meet again when my journey is through!