Your Pet Loss Stories'Flashy, My Bassett Hound'
by Chris Pacheco
(Maine)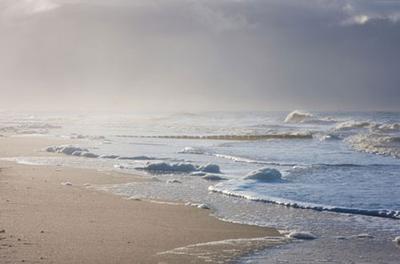 I lost my dog, Levi a few years ago. It was sudden and unexpected. A few days later, I was sitting in my back yard and crying, and my neighbors Bassett Hound came through the woods, climbed up to where I was sitting, and flopped down beside me. This was unusual because prior to that day, he wouldn't let anyone outside his family near him. He laid by me for about 10 minutes, had a drink of water, then wandered off toward home.

When my husband got home that night, I told him that I wanted him to ask our neighbors if we could have him. I had noticed that he was often loose, and his owner had told me that she didn't like him and would lock him in the bathroom when they were home because he was whiny. Long story short, they said yes, and this began my great friendship with my buddy.

Flash was funny, lovable, sweet, rowdy, and silly. He loved the beach, riding in the car, playing in Christmas paper, and laying his 70lb body on everyone's lap. He liked to scratch his back under our bed and grunted, groaned and bathed the whole time. He was tolerant of foster dogs we cared for. He liked to annoy the cats. He never had an accident in the house, didn't eat what wasn't offered and didn't bark unless the other dogs barked. He was my Saturday morning errand buddy. He snored, and loved to drink from puddles and streams.

I got home from work on January 31, 2013, and Flash acted fine. I gave him a couple of treats, took him outside for a little walk around the yard, then brought him in for dinner. He wouldn't eat. I offered him canned food and he turned his nose up to it. I brought him some water, which he drank, then acted like he wanted to go out. I hooked him out, and when I looked, he was laying on the ice at the far end of his leash. I brought him in and he collapsed by the door. I tried to pick him up, but he wouldn't stand.

This is when I noticed that he had cat litter around his mouth and bottom. I watched him struggle to go to the bathroom for forever, but really for about 45 minutes. He was laying on his side and panting and straining. I tried rubbing his tummy, giving him water, nothing helped. I called my husband, and when I looked at Flash, he was laying still but his legs were stiff and twitching. I laid beside him and kissed his furry head and told him I loved him. I covered him with an afghan and sat and watched as he took his last breaths. My heart is broken. He was the perfect dog. Unconditional love, as sweet as could be. I wish I could have saved him.