Your Pet Loss Stories'Gregy The Cat'
by TaniaD
(New Zealand)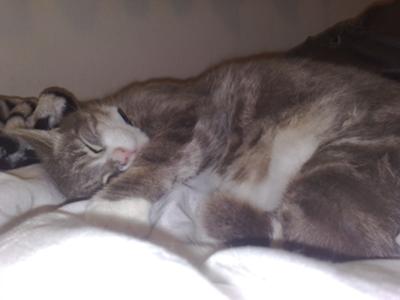 Gregy was a few weeks old on my 8th birthday and was born from my cat Lisa. She had 5 kittens, three tabbys and two grey tabbys, and my father told me I could only keep one, so I picked a girl kitten that looked like her mother.

One day I went off to a friends place and father decided it was time to round up the kittens and take them to the pet store. He dropped off the kittens and on the way home he realised that he had given my kitten away, he was too shy to go back to the pet store and ask for her back.

When I returned home my father told me the bad news and I was so upset... and out from the hedge bounced a little grey kitten that came straight to me. He had been exploring in the trees when dad had taken the kittens... and through the nine years we were together I knew that Gregy my baby boy was always meant to belong to me and me to him. We were always destined to be together.

Gregy died on 6th September 2010. I will love him forever and I will see him again one day.
Join in and write your own page! It's easy to do. How? Simply click here to return to Your Pet Loss Stories - Cat Stories - G - I.