Your Pet Loss Stories'Heaven Gets Another Angel'
by Amanda Venditelli
(Rhode Island)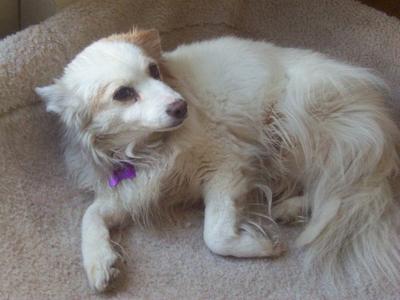 November 1st 2010
The thought of your presence still brings a tear to my eye for it has been almost two years now since we've said our goodbyes.

You were found among the streets in a place called Athens Greece. A young woman sprang from her car when she had spotted you from afar. She picked you up in her arms and she was won over by all your charms. As the years passed your muzzle turned from bright white to gray. We tried everything in our power to keep the pain away.

A few more years had passed and your time was growing near, I knew it wasn't much longer until I had to face my fear. Within a few months time you took a turn for the worst. I knew it was time and your battle was lost. You gave up a good fight throughout your elder days but me letting you go showed respect to you in so many ways.

I didn't want you to suffer any longer for it would have been selfish although I hoped and prayed you would get stronger. I told you "I love you girl, and I will see soon." As I watched you close your eyes and your chest rise and fall one last time I knew you were gone. As I held you in my arms the tears ran down my cheek but in a way I had sneaked a smile as I knew you were no longer weak.

You were at Rainbow Bridge now where you could run, and jump, and play, all over again. I know I did what was best as hard as it was to handle for heaven had gotten another angel.

Rest in peace Angel baby I will love and miss you forever, and you will always be in my heart, run free my angel for one day we will meet again <3.
Click here to read or post comments
Join in and write your own page! It's easy to do. How? Simply click here to return to Your Pet Loss Stories - Dog Stories - A - C.