Your Pet Loss Stories'I Will Always Love You Sly'
by Jess
(SC)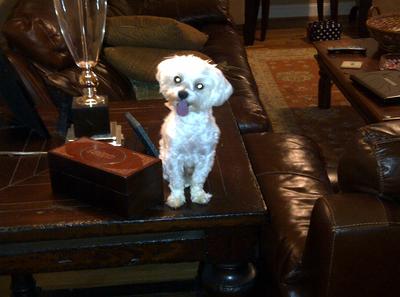 Haircut
I lost my dog, Sly, on June 5, 2012. I got him from a woman who supposedly breeds dogs. She said I could babysit him for 2 months and if I decided I didn't want to keep him I could give him back.

After a month she disappeared and said she went to Spain to care for her mother. I had no choice but to keep him because I didn't want to take him to a humane society where he would spend forever in a cage.

He started getting sick so I took him to the vet not knowing what they would eventually tell me. The vet said Sly had signs of abuse and that he was probably in a puppy mill at one point. This completely broke my heart. They also told me he had heart worms and that if it wasn't treated soon he would die, so me and my mom did what anyone would do we gave him the medicine the vet told us to give him and we thought he was fine.

A couple of months later he started having weird episodes where he'd pass out and seizure and he would also throw up all the time, I got scared and we took him back to the vet. The vet then told me that the heart worm medicine we had been giving him caused a heart murmur (hole in his heart). They told me he was in a lot of pain and the best thing to do for him would be to put him to sleep.

I absolutely couldn't do that to my baby. He was my world. He was my everything. He was the happiest dog when I was around, nobody else saw him as happy as I did. When I got home from school everyday I would go get him out of his crate and he would go insane, run in circles around me, and almost have a panic attack, a couple of time he actually did have a panic attack.

Nobody would ever think a abused and neglected dog could ever be this cheerful and loving but he was because I loved Sly more than anything in the world, he made me the happiest I've ever been so I made him the happiest he could ever be. I made his life whole just like he did mine.

Eventually his energy was completely drained and his hair was so thin and I knew he was very unhealthy. I made the decision to have him put down. My heart was so broken I just laid over his little body and cried my eyes out. The vet cried as well as the assistant.

In the 9 short lived months I had Sly I had the best and the worst moments of my life. Sly taught me love and devotion and I will never forget him.
Join in and write your own page! It's easy to do. How? Simply click here to return to Your Pet Loss Stories - Dog Stories - S - U.