Your Pet Loss Stories'In Memory of Peaches'
by Carolyn Rydel
(Sherwood, AR., USA)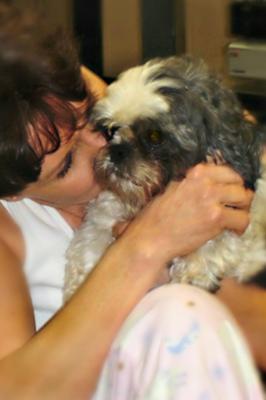 I will miss burying my nose in her soft little curls.
We adopted Peaches just before Christmas of this year. She immediately stole our heart and quickly became accepted by our two other dogs, Max and Tiffany. She was about 5 years old, the most beautiful tri-colored Shih-tzu with huge dark eyes that would just melt your heart.

When I took her to be vaccinated, we were informed by our vet that she had tested positive for heartworms. We immediately scheduled her for treatment. After the first treatment, for a few days she seemed to be feeling better and we were so relieved and hopeful that our little baby girl was going to get well and have a bright, happy future. Five days after the first treatment, she began having difficulty breathing and I rushed her to the vet's office where she was prescribed some heart medication along with prednisone to help with the inflammation around her heart and lungs.

For a couple of days, the medicine appeared to help her. On the 8th day, she got worse, her gums were pale and I rushed her back to the clinic. The doctor put her on oxygen and gave her injections of antibiotics as she had a severe lung infection due to the heartworms dying off and exiting her immune system.

This past Sunday, 30 April 2012, the doctor on call called to inform us that the clinic had run out of their oxygen supply and asked if we would like to have Peaches here at home overnight as on Sundays there is no one at the clinic to watch her. I was to bring her back to the clinic around 9am the next day when they would have a new supply. My husband and I picked her up and was given the phone number to an emergency clinic in the event she had problems.

Peaches rested very comfortably through the night. I woke up at 5am to let the other two dogs out to potty. I carried Peaches out in my arms and set her down on the grass, She pottied, and walked back to me to pick her up and bring her back inside. Inside, I sat with her on the sofa and she laid her little head against my chest.

We must have sat there for 10 minutes or so, when I sat her down in her bed so I could go prepare her food and give her some medicine. I couldn't get her to eat a thing, she drank lots of water though so I laid her food dish close to her bed thinking that she would eventually be hungry and eat. She sat up for a little bit when suddenly she collapsed. I rushed over to see about her, and noticed there was something that just didn't look right in her face. I grabbed her up in my arms, called for my husband and we left to take her to the emergency clinic not far from where we lived. Her breathing was shallow and she was limp, all I could do was hold her close and talk to her.... I begged her to hold on, everything was going to be okay. Less than 2 minutes from the clinic, I felt her heart quiver and she took her final breath.

Her death has been very painful. I relive that morning everyday. I have not had the heart to put away her bed or her toys, my pajamas that I was wearing when she died, I have folded neatly in a plastic bag. Her little body was the last to touch them and I don't want to erase the last vestige of her life.

We had her privately cremated and her ashes were returned to us this past Thursday. I hold them everyday just as I held her. She was our little angel and she always will be.