Your Pet Loss Stories'Ivy "Noodle"
by Lindsey Noelle
(Cave Creek)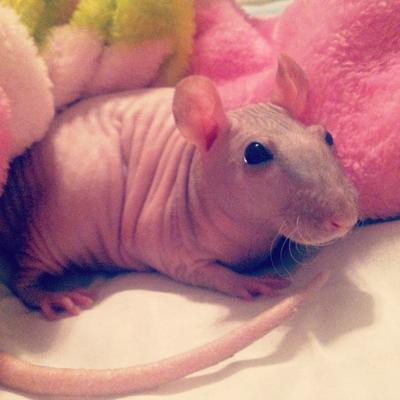 Ivy
Ivy came into my life on December 22, 2012. She was the most beautiful little creature I had ever seen and I knew instantly that she was supposed to be mine. She was an 8 month old hairless rat and she was perfect. Soon after Ivy came home with me, I went through a very painful break up. I was so heartbroken and Ivy knew I was upset.

One night I was crying and she made a bunch of noise in her cage. I looked over at her and she was staring at me. I reached over and she crawled into my hand and into bed with me. It was like she knew I needed her and she snuggled under my chin and began grinding her little teeth as if to say, "Tt's okay... I'm here". I had never felt comfort like that before.

I struggled for months with this break up and Ivy was always there. She had free range of my apartment and even played with my dogs. Something about her spirit made all of the pain go away and I was so happy to have her near me.

In February, Ivy developed some sort of infection... from then on it was a fight to keep her alive. She saw a few different vets, tried different medicines but month after month her condition got worse. All I could do was keep her comfortable, warm, and loved. I homemade all of her food and fed her by hand. I built side railings in her cage to keep her safe from falling off the different levels and even kept her in bed with me at night to make sure she was warm.

I lost my sweet baby on June 29, 2013... only 6 short months after I got her. I had a vet appointment for the next morning but feared she wouldn't make it until then... she didn't. I watched her take her last breath finding the only peace I could in knowing that she was warm in her blanket with me by her side.

My heart aches constantly and sometimes I feel like I will never recover. She saved my life. Before her I had never known love like that and I needed her in my life just as much as she needed me. I will never understand why I only had her for such a short amount of time or why she couldn't seem to get healthier. Losing my little Noodle was the worst pain I have ever felt in my life. It makes my breakup seem like a joke. I would do anything in the world to have my baby back and I am struggling with her being gone.

She was amazing and I loved her with all my heart and soul. Thank you Ivy for mending my broken heart and showing me what true love is. I miss you terribly Noodle and I will never, ever forget what you did in my life and my soul. I love you Noodle.

Join in and write your own page! It's easy to do. How? Simply click here to return to Your Pet Loss Stories - All Other Pets Stories .