Your Pet Loss Stories'Lacey'
by Erin
(Pennsylvania)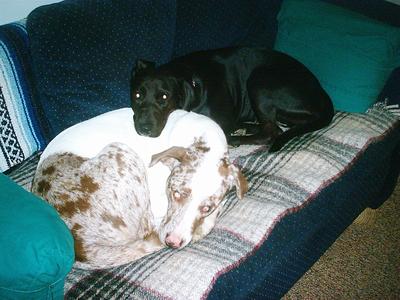 Hi,

My name is Erin.. I just lost my dog Lacey yesterday... Aug 26th 2012. She is 3 years and 9m onths old. I had her since she was 4 months old. She died very unexpectedly. She was not feeling all that great on Thursday... Friday she seemed a little worse. I didn't take her to the vet because I thought it would pass. Saturday she seemed a little worse.... I called the vet, but they weren't in. I thought maybe just take her to the vet on Monday first thing in the morning.

Sunday, she got progressively worse.... I noticed she was breathing very heavy and she had fluid coming out of her nose and her mouth was watering very bad. I decided then to rush her to the animal hospital in my area. I had gotten about 3 miles away from my house, I looked at her and she looked up at me, took her last breath and passed away in the car.

I am devastated. All in 3 days my dog went from healthy to passing away. I blame myself for not taking her to the vet on Friday. I guess I just thought it would pass. I know it has only been a day since she died, and I know it will take time to acccept it, but I just can't seem to grasp the fact she's gone. I feel so guilty not knowing what caused this and now I will never know.

My baby is gone forever and now I am left alone and helpless. If you take anything away from my story take this.... if your dog seems not in the right state, take them to the vet right away... I wish I had, my Lacey may still be here today.

Thank you for listening to my story.

In the picture Lacey is the black dog..... I miss her so very very much.


RIP Lacey
Born 11/15/2008
Died 08/26/2012
Click here to read or post comments
Join in and write your own page! It's easy to do. How? Simply click here to return to Your Pet Loss Stories - Dog Stories - J - L.