Your Pet Loss Stories'Lola'
by Anthea Pilkington
(UK)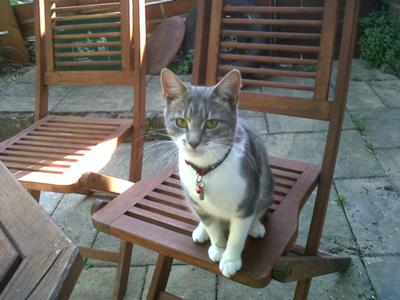 Lola came into my life along with her brother Charlie in September 2009. Of all the kittens in her litter she was the most confident and affectionate. When I brought them home Charlie hid under the couch and Lola just got on with it, even giving her brother the confidence and encouragement to emerge.

Lola always sought me out and would love nothing better than to be near me, on me, by me. If we ever had any visitor she was eager to be on them too! She loved to nibble and lick my fingers. I have never met a cat like her, the vet who neutered her said that she was the only cat he had known who was still purring whilst going under anaesthetic.

She was so good and patient with my daughter Lily, who was 4 when we got her and who gave her her name. Lily used to constantly pick Lola up, but Lola never lashed out, she just used to take herself off to sit on a chair under the table or her favourite place, on top of the clean washing.
Lola liked to go into the garden, but she never wandered far and always checked in at regular intervals.

On Saturday 23rd April 2011 Lola didn't come home. It was so out of character and I knew something had happened. I searched the local area, registered her missing on various websites, I put notes through neighbours doors and posters up on lamp posts. I held out hope that Lola had been locked inside a garage or shed and would be back, but it wasn't to be.

On Monday 25th my husband and I returned from my mothers and I found her straight away underneath our day van next to the house. I am sure that she hadn't been there for all that time, surely I'd have seen her. There was no indication of why she had died, no apparent injuries and she had seemed pefectly well before she went missing.

My husband got her out and we buried her under a tree in the garden. I spent a few minutes with her before she was buried stroking her fur and taking off her collar as a keepsake. I told her that I knew she wouldn't have left us and run away, she loved us too much.

My grief is surprising to me, I miss her so much, even the things that used to drive me mad, like sitting on me and pawing my face with claws out not to hurt but to gain my attention and nibbling my fingers whilst I typed on the computer, just as I am now! The house is so quiet and still, Charlie just wanders in and out, I love him to bits but he is a completely different character to Lola and I really miss being hassled all the time.

I feel that we will offer a home to another cat as much as a companion for Charlie as anything else, but it's too soon to do so now, Lola is irreplaceable to me.