Your Pet Loss Stories'Macy Gray - I Try'
by Adrian Spencer
(The Hague, The Netherlands)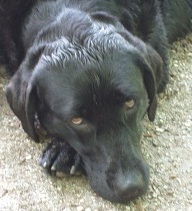 Macy is a beautiful black Labrador with sad eyes and a happy face. Her coat is thicker and curlier than most Labs and even now has a great shine to it. She has a white chin that looks like an old man's beard. She was born in 2000 and being black and curly was named after the singer Macy Gray. Now I sometimes call her Macy Greybeard.

I have many pet names for her. Little-Wolf, Curly-girl, Little dog, little girl, Daddies girl, love, baby, darling etc. and she is all of these things at different times. My little Black Shadow.

She came to me as she just turned four and straight away she knew I was her man. She never left my side in those first few days. She immediately recognised my voice and my whistle and from at beginning would respond only to me. She showed me complete love from day 1.

She's well travelled, often accompanying me on trips in trams, trains and boats, mostly between Holland and England. Anywhere I went she was happy to go. Everything was OK as long as dad was there. I am privileged to have experienced such trust and I hope that I have been worthy of it.

But now, she is incontinent, has a bad cough and is very slow at walking. She still loves her food and has much enthusiasm for life but is constantly wet and smells too bad. I have agonised but now I know that I cannot cope with her anymore. I do not want to start resenting her so I have today made the decision to take her for her final walk.

There is a journey that we cannot make together and the time has come for her to follow that path and for me to follow mine. The space she leaves in my life and in my heart will never be filled but I know the empty pain will give way to the fondest of memories. True love cannot die.

I haven't been lonely or bored for 9 years and in that time we have been through much. She helped me grieve for my father. Who will help me grieve for her?

So now I say goodbye to Macy Gray, my Little-Wolf and hope she can forgive me for what i am about to do.

I Try...
'I try to say goodbye and I choke
Try to walk away and I stumble
Though I try to hide it, it's clear
My world crumbles when you are not here.'

Thank you for providing this space.


Join in and write your own page! It's easy to do. How? Simply click here to return to Your Pet Loss Stories - Dog Stories - M - O.