Your Pet Loss Stories'Me and My Shadow'
by Denise S.
(Wichita, KS, USA)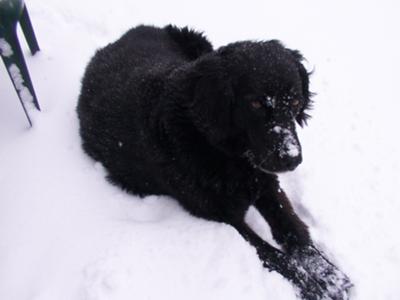 Shadow enjoying the snow
Shadow was born at my outdoor learning site in June 2000, the first of the litter. Her mother was the site ranger's pet. It was funny because the mom was a golden retriever and dad was a black lab but all the girl puppies came out black and all the male puppies came out golden.

Shadow is survived by her brother Oso who has been immortilized by his master in a book entitled "Oso's Tale."

The site ranger put Shadow under my desk and said "You need a dog!" She was all black with bright eyes. She got her name because she followed me around the site like my shadow. She also liked to chase shadows on the ground be it birds, butterflies or airplanes.

The summer site staff threw me a puppy shower to help me with all the stuff a new puppy needs as this was my very first pet. Boy did she get a lot of stuff! But her favorite toy was an empty plastic soda bottle. She liked the crunch sound it made.

When she was old enough Shadow and I went to training and she was certified as a therapy dog. She and I had lots of good visits. When I injured my knee she was my rock during recovery and when I first ventured out for a walk and fell, she stood by me letting me lean on her to get up.

Shadow first injured her back leg slipping on the ice when she went racing outside the back door. Shadow had her first seizure at age 6 but recovered from it with only a slight limp (the same back leg) that soon was better after some anti-inflamatory medicine and rest.

Then in her 10th year she severely injured her back leg and ultimately blew out her knee. She had also been having more seizures (about 3 a month) so was not a good canidate for surgery. She did her best to not complain, wanting to go on her routine walk but knowing she couldn't get very far before the limp turned into leg dragging. Near the end she was taking medication for the pain but it made her ill and sleepy--not my bright eyed girl. So I had to make the hard decision that it was best that I put her down.

On October 18, 2010 she laid next to me on the floor at the vet. So many sounds in the building made her anxious. She also knew something was up because I was so sad. In the last moments as the sedative took over she looked back at me and licked my hand as if to say "It is okay" then laid down her head with a big sigh. When the final injection went in moments later she was gone in less than 30 seconds.

The KS Humane Society was so great! They came that day to pick her up with great care. I received her ashes in a lovely oak box with her name and date of death on it with a certificate that hers were the only ashes contained in the box. There was even a condolence card.

I miss her every day. I miss the sound of her tags jingling, the scratch at the back door to be let in, the chasing of squirrels as they walk along my back fence. Even the squirrels seem bewildered that there is no one left to chase them. I see them looking over their shoulder for Shadow to come racing through the bushes to bark at them.

Goodby my wonderful friend. One day we will meet again at the bridge and take that long awaited walk together.
Join in and write your own page! It's easy to do. How? Simply click here to return to Your Pet Loss Stories - Dog Stories - S - U.