Your Pet Loss Stories'Melissa'
by Phuong Hancox
(Australia)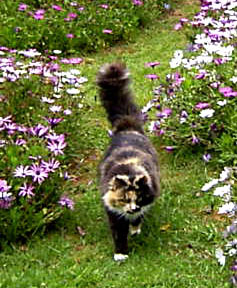 Melissa was her name.
Nobody knows where she came from, how old was she... because she was a abandoned cat.

When we moved here, she had been adopted by the neighbour next to us, and when they got a big dog, it chased her, so she ran to our place, I gave her some food, and she became our outdoor cat.

She was a shy cat, she'd always hide when somebody came... She was scared of a lot of things, maybe her bad memories were still there. She followed me everywhere, when I worked in my veg garden she stood next to me. When my husband and I went shopping, or went for a walk... she stood at the gate waiting for us to came home, she'd "meow, meow" excited and twitch her tail...

At the Boxing day 2012, she suddenly fell down on the grass, breathing rapidly with her tongue sticking out... something had sent her into shock, I didn't know what to do.., I checked her, not injured, I kept stroking her... and after 15 minute, she recovered, stood up, drank her milk...
The next morning, she woke up, ate her food, cleaned herself... she seemed OK, but her face was a bit sad, she went to the greenhouse to sleep, I hoped she would recover...

After I had done the garden, I went to the greenhouse to look for her, but she was not there... I thought she had gone to the garage of our neighbour, like every day... but in the evening, she has not come back... I started to get worried, because she never missed her mince beef that I gave her every night before she went to bed... We were looking for her, we called her... but got no answer! We kept looking her for a week, everywhere we thought she could go... She was still missing ...

For a month since she disappeared, I still put her food & water in the green house, hoping one day she might return... I went to the internet, searched information about the cats... and found out: Cats return to nature and the Earth to die... They knew they were dying and chose to be alone somewhere in a quiet and secret place... My heart was broken totally... I started to realize that she was gone ... forever ....

She had stayed with us for nearly 4 years. Now I still try to live without her, I miss her so much, I shed more tears for her than for anybody else... I still "see" her everywhere in the orchard, veg garden, on the bench next to the back door, special in the greenhouse, the pillow I made for her still has some of her fur on it... Now, I realize that she was not just my cat, she was my little girl!

Melissa, Mom loves you, forever!