Your Pet Loss Stories'My Amazing Dog!'
by Hannah
(Fond du Lac, Wisconsin)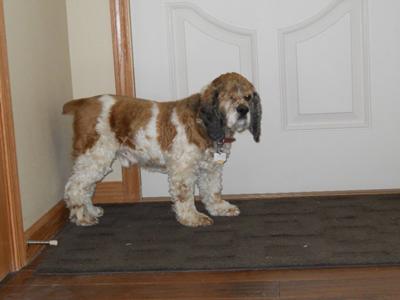 Protus, Waiting to be let outside patiently!
I had a Cocker Spaniel purebred when I was younger but we have never been able to keep a dog because my brother made them nip and bite, so we had to get rid of all of them except this one.

Here's my story: When I was younger my dad wanted to get a dog, so we found a lady in Wisconsin that was moving to an apartment and couldn't take the dog with her. So we brought him home. He was just a pup then. He grew up, and most Spaniels have health issues, so did Protus. (That stands for P-President O-Of T-The U-United S-States).

He had to get one eye taken out because it was causing him a lot of pain! As he got older the health issues grew worse. One day we found out he got cancer and he was becoming lazy and wasn't eating. So a few weeks later, my dad and uncle took him to the vet and put him to sleep because we didn't like see him just sit around in pain.

I was in church that night when I received a text from my dad saying "we put Protus down tonight". I knew for a while this was going to come eventually, and that night it did. When church was over, and my pastor walked by, I went up to her and said "we put Protus down today" and she gave me a hug and I started crying in her arms.

I cried myself to sleep a few days before we put Protus down because I didn't want him to leave. He was the smarted dog I ever met! I have always been the one taking care of him. He wakes me up when my alarm goes off and forces me to get out of bed to go let him outside. He needs to stay on a chain while being outside (learned that the hard way!). Anyway, after we put him down, we got a new dog his name is Otis. He is so funny! He is just like Protus!

RIP Protus 3/9/11 I Love You Baby!
Join in and write your own page! It's easy to do. How? Simply click here to return to Your Pet Loss Stories - Dog Stories - P - R.