Your Pet Loss Stories'My Awesome Cat Dexter'
by Lisa
(Farnborough)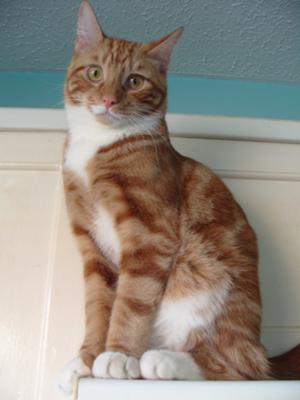 I remember selecting this beautiful 8 week old ginger and white kitten from the pet-shop a little over 2 years ago. He just had something about him, an extra spark, it almost looked like he was daring me to take him home - so thinking that he would need to be able to stand up for himself having to live with 2 established adult female cats, I decided he would join our family. Little did we realise that that little kitten would come in and completely rule the household.

He was an absolute delight and terror all at the same time - never understood how to play with the others, always pushed it too far, ate absolutely everything and as a result grew huge. Then he started to notice the outside and this was when he really came into himself - always made me smile the way he would race around our large lawn like a whippet, so excited to be out there. He'd come running out from the bushes to meet us everytime we came home from work - meowing away telling us what he'd been doing. You could throw sticks and he'd run after them and then he'd come back and wind round your legs usually falling over on to his back so you could rub his belly.

He seemed to make an instant impression on everyone he met and even those he didn't meet felt they knew him cause I spoke about him all the time. He became a big part of our lives which is why at this early stage it feels so empty now that he has gone. I think he must have run out onto the road after a squirrel or bird or something - once he was focused on something there was just no stopping him. What pains me the most is that we didn't have a chance to save him - it was literally that morning he was there with us and that evening he was gone.

He was such a character and such a handsome boy and I would give anything just to have one more moment with him. The pain of losing him is still very real but I comfort myself that this is not the end, we'll see him again one day and until then he is still with us in our thoughts and memories. To me, he will always be the best, most awesome cat I could have ever asked for and we were lucky that for the time he was here, he was ours.

Click here to read or post comments
Join in and write your own page! It's easy to do. How? Simply click here to return to Your Pet Loss Stories - Cat Stories - D - F.