Your Pet Loss Stories'My Baby Beryl of Bridgewater'
by Katrina
(Cheshire )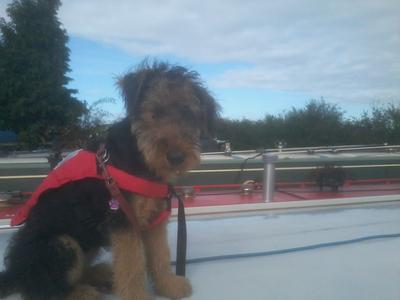 Beryl on her boat..
Airedale Terrier born May 14 2012..
Just 7 months old.
Beryl.

I was there the day you were born. And handled you every day since then. You knew you was adopting me even though I didn't at the time.

You secretly stole my heart.
Every day I watched you grow with your brothers and sisters.
But you hadn't developed enough as you was the baby of the pack.
But Tuff you my little sweet baba showed us all, and gave us all Love back in our hearts. I quit my job and moved you onto my boat.

I didn't know why I had to spend every day with you.
But I know why now... You were only here for a very short time.
You took ill so very rapidly so much worse than we ever thought.
And yesterday 20/12/2012 my heart, soul, future, life and everything has been taken away. I thought I'd have up to 15 years with you at my side.
Walking miles everyday along the canal. Saying hello to all your doggy friends. Watching the ducks and the horses. Visiting the folks and getting so very spoiled. And what about Stu and Albert and our dreams.

Batty B Why have you left me all alone??? But I thank you for all your love, excitement, cuddles, cheekiness and devotion you kindly gave to me and everyone who loved you.

Big mamma and big poppa are beside themselves. I'm just hoping it's a very bad dream. But this much pain in my heart realised it's not.. Please let me know your ok somehow. Come see me anytime as mummy misses you so dearly.. It wasn't time yet for us to part. I am so very proud of your loyalty, strength, lovingness just you, Thank you for being Just You.

I can't say goodbye as that would be final. So 'toodledo' my amazing soul mate/bestfriend/baby .. Till the day you're by my side again you'll Always be in my heart and missed..

We All miss you baba.. Xx Xx Xx
Click here to read or post comments
Join in and write your own page! It's easy to do. How? Simply click here to return to Your Pet Loss Stories - Dog Stories - A - C.