Your Pet Loss Stories'My Baby Cupcake'
by Maribella Beltran
(Berwyn, Illinois, USA)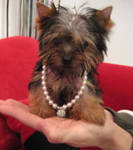 7/27/06 - 6/5/10 R.I.P Cupcake
I got my baby girl from a pet store that specializes in tea cup dogs. She was so small she only weighed 1 pound. She was small enough to fit in your hand, but she acted as if she was as big as a German Shepherd. I swear my mom loved Cupcake more than me. Her life span was 12-15 years, but she only lived 3. She was at the groomers and they said they were blow drying her and she just died. The groomers showed no type of remorse for our loss. I wanted to rip their hearts out. I truly wanted to go in there fighting and screaming, but that wouldn't help anything.

She died on June 5th, 2010. None of us believed it so we took her to get an autopsy at The University of Illinois. We drove all the way to Champaign, Urbana for her autopsy to be perfromed. We are still waiting for the results. We decided to get her cremated so she can always be with us. That day my mom cried her heart out and I did too.

Cupcake had and still has my heart. The day she died I couldn't stop saying sorry, I felt as it was my fault that she passed. I remember sitting down petting her limp body singing "My Little Sunshine" because she will always be my little sunshine. I feel like I didn't show how much I love her. It's true when they say you don't know what you have until it's gone. We are sueing for Cupcake. We all want justice for her. Even though it wont bring my baby back she deserves justice for what had happened.

I can never put it in words how much I love you Cupcake. I'm sorry please forgive me. Baby girl I love you with all my heart, I can't wait until I see your face again. I miss you dearly and I can't get over this. My heart broke in 2 on that day just to know you're not here with me anymore.

I love you Cupcake I truly do.

Join in and write your own page! It's easy to do. How? Simply click here to return to Your Pet Loss Stories - Dog Stories - A - C.