Your Pet Loss Stories'My Best Buddy... Gone 3/6/09'
by Tina Brand
(Elmira, NY)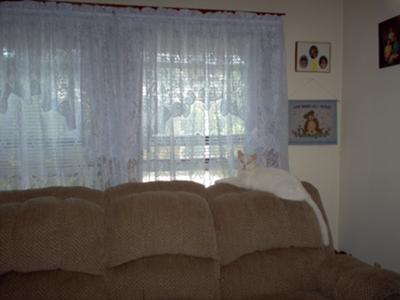 My Chubby...2006
I miss my Chubby so much. I watched my Chubbs/Chubby be born 2/99. He was the first of 3 to be born. He also was so chubby so that's how he came about to have the name he did. He was loved/liked by many. He was a very gentle & loving cat. He was a very well behaved cat. He always tended to be on the lazy side. He loved to sleep all hours of the day & night. When he was up and about he had a playfull side as well.

For most of his life Chubby was an inside cat. My Husband of almost 2 years & I bought a house in November 2007. Took about a week & Chubby settled in. We left an apartment that had a balcony with a roomy porch. Only up on the 2nd floor. Chubby loved to go out & enjoy the Spring/Summer air. Oh how he loved to watch the birds & squirrels, not to mention the other cats in the neighborhood but never once in the 5 years living there did he ever try to jump down to chase them.

Our new house has a very large porch close to the ground of course. Well my Husband thought Chubbs might like to go out for some fresh air etc. The front yard isn't to far from the road.
Bit by bit Chubby gets a little more freedom & he really likes it. He acquired a friend (another cat) from the neighborhood & they seem to get along very well. The night Chubby died he was so anxious to go outside & yep his friend was there waiting for him, so I let him out.

I decided to read my e-mail so about 30 minutes had passed & I read one more e-mail & it was the 10 Commandments for pets. So very sad, but so nicely put. It really didn't appear to relate to the feline world but one could replace it with your own preference. After reading this I cried for it was so sad & heart touching! With that I passed it along to friends & family & closed out my e-mail.

I walked from one room to another & my doorbell rang my Husband answered the door. A gentleman was there & shared with my husband that he hit my Chubby. The gentleman even took the time to turn around & come back to let the owner know what had happened. While the gentleman was going to turn around another car hit my Chubby. I don't understand how one could miss Chubbs lying in the road he was pure white & good size. Our street is pretty narrow so one would see this.

The only damage to Chubby was all head trauma, had he survived the hits my Husband said we would of had to put him down just the same. I do praise this unknown gentleman who did take the time to stop!! This gentleman had asked my Husband if he needed any help getting Chubbs out of the road ect. My Husband prepared Chubby & buried him. So every time I look out my kitchen window I can see his resting place.

When my Husband told me I was devastated & cried for hours & still cry over the thought of Chubby. He was always by my side no matter where I was he was right behind me. He snuggled in tight at night when it was bed time, he'd cuddle right up on my pillow. The week before he died I was away for a week & my Husband shared how Chubby had been looking for me all through the house. He kinda snubbed me when I got home from my trip, but after a few hours he was right back to his lovable self & then the next day he was gone!!

I miss Chubby so much, I loved him like no other!! I think of him every day. I do hope there is a place such as Rainbow Bridge for pets!! Thinking there is helps a bit to ease the pain of his passing.

I LOVE AND MISS YOU CHUBBY!!!!
Click here to read or post comments
Join in and write your own page! It's easy to do. How? Simply click here to return to Your Pet Loss Stories - Cat Stories - A - C.