Your Pet Loss Stories'My Best Friend - Chevy's Story'
by Michelle
(Nebraska City Nebraska )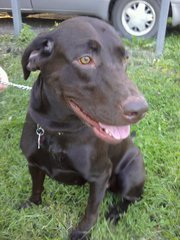 This was the picture I got on May 26. This was the last picture I got of my Chevy. I miss her.
It was a warm summer day. I heard somebody was giving away chocolate and black lab puppies. I instantly jumped on the chance to get one. I went to look at them I seen this little female chocolate lab puppy running and playing with the kids. I told myself that's the one I want! This little pup whined all the way home. I named her Chevy.

Chevy grew faster than I ever imagined! I sometimes wondered if she didn't grow right before my eyes. She was extremely smart. I taught her sit, shake, speak, come, stay, rollover, high 5 and down by the time she was 6 months old. I loved to watch her get excited when she got it right! Chevy's whole body would shake; I always thought her tail was gonna fall off from wagging it so hard! Watching her try to figure out what I wanted her when learning a new trick was even more fun. I could see her thinking. The look on her face was priceless. It was of thoughtfulness with the classic Lab smile.

Chevy was the happiest dog I've ever seen! I don't think my little girl ever had a bad day. When I was having a bad day Chevy knew. She always ran and got her tennis ball (or anything I could throw) and would poke me with it til I just got so annoyed I would play. Next thing I knew my day was good. No matter how bad of a day I was having my 4 legged best friend could make it better just by getting me to play.

Things changed a little after Chevy turned a year old. Chevy got extremely protective of me. I had to break that right away. I never really broke it but I taught her the right times to be protective. She also hit the teenage phase then too! She would tear up anything if she was not kennelled when I left.

I decided I wanted to breed Chevy. This is where all the problems started. I took Chevy over and put her with my neighbors yellow Lab. My sister came home from school before me. Chevy got out the door while she was still in heat. Abby told me she got our other dog Sky in the house but not Chevy. My mom and I came home and the neighbors Shepherd and Chevy were locked together. I was mad. I also wondered if something bad would happen to Chevy after being with 2 male dogs. I didn't want to find out. The next morning I called and talked to my vet. He said we could get her a mis-mate shot. My mom and I took her to the vet and got the mis-mate shot.

It was about 3 weeks later. I gave Chevy and Sky and pop each. Chevy was laying on the couch playing with hers. Sky was in the bedroom playing with hers. Next thing I know Chevy jumped off the couch and just attacked Sky out of nowhere. Chevy wouldn't let up. It took my mom and I 30 minutes to break up the dog fight. After that Chevy couldn't be around another dog. It didn't matter if it was male or female Chevy just started to fight. She was fine with people.

I immediately called the vet and talked with him. He asked if she had Pitbull in her (no I'm not against Pitbulls!), I'm like no not that I know of. My vet said to bring her in and wanted a blood test done to be sure. It was a week later the vet called and said my Chevy had pitbull in her. I was crushed because I knew what that meant. Our house was seperated for 4 months. The vet said I more than likely couldn't fix her. I also knew I couldn't either.

May 27 2010 at 2 pm Chevy went the vet to be put down. My little girl knew it was coming. I had to play fetch with her to get her out of her kennel. As 2 got closer I cried more and more. Chevy came up and kissed me as if to say "Mom it's okay. I know you don't want to do this but it's best for me. I'm not happy just playing with you. I can't have doggy friends. I'll be better after this is all said and done."

I walked into the room with Chevy. Doc Joy said the first shot would take 10 minutes and it would be like she was in surgery. Chevy wouldn't feel anything. The second shot is given in the heart and I couldn't watch him give that one. I didn't want to either. I sat on the floor with Chevy til the first shot took hold. I stepped out let the vet give the next one and went back in.

It was 45 minutes later the vet listened for a heart beat and there wasn't one. I could by the look on his face that she was gone. I put my face against and cried and cried and cried. I had her cremated.

It's now almost 6 months that Chevy has been gone. I miss her more and more everyday. This feeling of guilt loss and anger hasn't really gone away either. It makes it hard to get through the grieving process when she was my best friend. My life revolved around her for almost 2 years. Chevy did everything with me. I still cry over her. I'm working on a scrap book for her. I hope Chevy is alright. One day I will be able to cross rainbow bridge and be with her again.

It also got easier when I got 2 other dogs. I'm now mom to 2 great Danes. Having another dog to love makes it much easier. I had a picture professionally drawn of Chevy. It looks great hanging on my bedroom wall! I knows this isn't the site but go to bark'mcanine.com. Chevy's picture is on there! Who knows you just might want to have your dog drawn too. Great way to remember a loved pet.

I've learned as a pet owner don't ever ever breed your dogs. Leave the breeding to the experts. Otherwise you just might have to deal with that I did. Let me tell you it ain't fun.
Join in and write your own page! It's easy to do. How? Simply click here to return to Your Pet Loss Stories - Dog Stories - A - C.