Your Pet Loss Stories'My Life Will Never Be The Same....'
by Shannon Hogan
(Cincinnati, OH)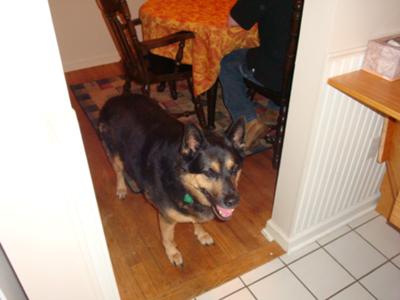 Tobius Meredius Maximus Hogan
When I was stationed in Hawaii, my ex wife and I decided to adopt a dog. As we searched through the sad faces, barks and whimpers. Until, that is, I came across him. A one year old German Shepherd mix, who's look stopped me dead in my tracks. I must have spent 15 minutes with him getting kisses and paw shakes before the Honolulu Animal Shelter staff came over and asked me if I needed help. "Yes, I need to adopt this dog", I told her. I was given his back story, which made my heart ache as much as it does now. He was found walking along H2, a highway on the island of Oahu, he had been reportedly set on fire by the previous disgusting maggots who had owned him prior to. To this day, I have vowed if I ever find out who they are, hell will seem like a vacation compared to what I would do to them.

To make a long story short, my loyal companion, best friend and friend and I spent 9 glorious years together. When my ex wife and I split, I had nothing, I took cold showers, and ate next to nothing all to ensure that he and the other dog, Satch, we adopted that day, and another Riley, which my neighbor stole from me when she moved, had the best meals and had the best care. Even through my darkest time, my dog refused to leave my side. As things got worse, both financially and emotionally, in Kansas (my last duty station) I took over 40 pills to end it all. I knew it was the wrong thing to do, but I had ensured that in the event that no one knew where I was that they had 3 days worth of food, and access to the yard. This dog, was the only reason I am alive now. He whimpered and whined, and licked my face to wake me, and nudged me in the stomach until I vomited.

He literally saved my life. Which is why it pains me to write this memorial to him. I relocated back to my hometown of Cincinnati, Ohio in Fall 2007. He never left my side, even as I had to stay with family and he and Satch were my reasons for going on. Satch was adopted later by two friends of mine and is living a happy life, last I heard, in North Carolina. I know he misses his best buddy too. If he only knew, he would be as heart broken as I am. When I heard my best friend had developed a tumor in his anal sacs, my heart sank. I returned to college after remarrying, and becoming a step-dad to two little girls. Which, I have to add, did this dog immediately fall in love with all three of them. He laid by my wife's side everyday, and even took up the guard dog role as I worked at night. He would continuously check on the girls as they slept in the next room, until I got home. He would then spend some time with me, and of course, get rewarded for his loyalty.

I could not afford the remedial surgery, and there was no guarantees all the same. Still, I apologized everyday to him and spoiled him to death every day until today. Today.... 16th of June 2010, 19:10 hours, my dog... my best friend..... my wiggle butt, and my life, was put to sleep after a long, hard fought battle with his tumors. I cannot even bear to continue this tribute, but I will say thank you, thank God, and thank you for being in my life! Rest in Peace, Tobius Meredius Maximus Hogan..... be good boy, and I will see you again one day. I love you bubbies!