Your Pet Loss Stories'My Lilly'
by Jerry W Townsend
(Middletown, Ohio, USA)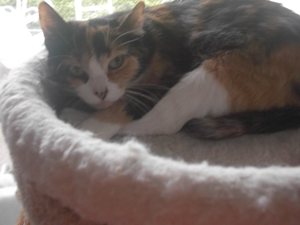 Lilly was the runt of the litter. She was so little when born with brown and black hair and a white chest. She was very independent, more so then her siblings. It took over two years to get to where I could pick her up without getting nailed with those sharp claws (I use to call her Barb Wire). She was also a talker and would go through the house carrying on a loud conversation for all to hear.

Chester (our large male cat) was her love and he spent long periods licking her head and she his. Lilly would be the first down the stairs in the morning to be fed (little legs flying) and often was on the kitchen table to encourage a snack along with Chester. Lilly would lay with her mother; which she did often the last few days of her life.

She warmed up to me to the point where she'd lay on my lap (or maybe just set on one knee) and occasionally lick my fingers. Lilly would lay on the kitchen table and roll over on her back and bring her hind leg up to her face. A ploy to get a belly rub. I would talk to her while she was on the table and she would put her paw on top of my head or flip over and roll back and forth.

Too much the lady, Lilly never fancied litter but chose to pee in the commode; standing on the edge with her tail down. She was little, proud and would often stare across the room at me as if to try and figure out what I was, what I was thinking or if I could be trusted. Always cautious, always curious - I loved her so and will sorely miss her.

Join in and write your own page! It's easy to do. How? Simply click here to return to Your Pet Loss Stories - Cat Stories - J - L.