Your Pet Loss Stories'My Little Angel Tilipicuchita RIP 2005-2011'
by Susie
(Shelbyville, IN )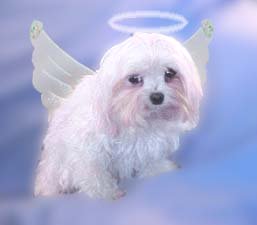 Like the little angle she now is.
We lost our Maltese nearly 24 hours ago. She was one of the six doggies we have. We had her for 6 years, almost all her life. She along with all our other dogs mean the world to me and my family. We treated her like the little queen she is. She slept with us, ate with us, and sometimes even bathed with us. She was the joy of the family, always spent her days happily barking. When someone from the family would come home she would always welcome them with licks of joy and barks of happiness. She was everything anybody could ever want. She was no less then a member of our family. She gave us the best six years of our lifes.

It was one cold night when my daddy went out to the store and took all the doggies. He only counted five when he got in the truck and knew she was missing but he didn't worry too much knowing the fact she always came home. When he returned home he asked if she was back yet and we said no. So we waited a while longer until we started panicking.

We began looking for her everywhere hoping to find her as soon as possible. 2 hours into the search my brothers friend said he had seen her run after the truck my dad left in. We went everywhere searching for her but we had no luck that night. We called 911 but they suggested we wait until morning to call the animal shelter. That night I slept with tears in my eyes wondering where she could be. It was such a cold night and just thinking about her being lost in the cold broke my heart.

The next morning we immediately called the animal shelter to receive the most shocking news of our lives.

When the lady picked up I gave her a description of our baby girl. They said a women brought in a small, white, female, Maltese puppy that was found over by where we lived. I was so happy to hear that, I knew in just moments we would have our Tilipicuchita back but I was wrong. Minutes later she mentioned that she had been hit by a car and by the time she arrived she was near death and could not be cured.

Tears started strolling down my face like never before. I told the news to the family and we all broke down in tears. To us it felt like a mother losing a son or a daughter. My dad blamed himself for not taking her. It was the saddest sight to see my daddy shed so many tears. He loved her no less then she loved him.

It hurts so bad to sit here and write this knowing that 1 day ago she was happily in our arms. No one saw this coming. She was a healthy strong little dog who I thought could survive through anything but I was wrong. She will never be forgotten. If I could turn back the hands of time and redo Dec 17 2011 all over again I would have changed whatever it took just to still have her sitting by our side.

Her memory will forever live in our hearts as if she was never gone. Her presence still remains in her home where she belongs. She left us with two wonderful puppies of hers who we will love just as we did her. She didn't go alone. She took half of all our hearts with her. I know one day we'll see her little angel face again but this time there won't be no goodbyes. This time it's going to be forever.

May you rest in peace Tili. We love you and will never forget you.
Join in and write your own page! It's easy to do. How? Simply click here to return to Your Pet Loss Stories - Dog Stories - S - U.