Your Pet Loss Stories'My Little Angel'
by Kat Smith
(Pennsylvania)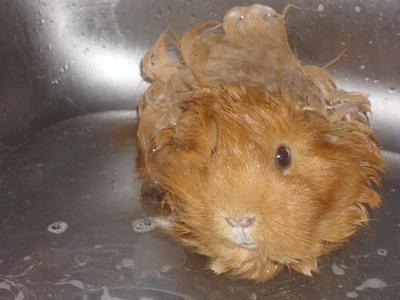 My Baby's First Bath
I had a guinea pig named Ruby, and she was my first real pet. She got a respiratory infection, and lost the use of one of her legs. I didn't know she was going to die because she suffered quietly. Didn't let me know she was in pain. She almost hid it from me. I felt like a terrible parent, and I still do. I blame myself for not noticing that she could only use one leg, and not noticing all of her health problems.

Then when she died, I couldn't stop crying. I buried her by the tree at my park, and played her two songs that described my little baby. "Trouble" by Pink, and "Never Knew I Needed" by Neo. I knew I always needed Ruby, but the concept of the song described my love for her.

I kept to myself after that day, and felt so numb. I didn't want to eat but I was forced to, and I didn't go out with my friends. But then I realized that my baby was with my brother's guinea pigs, and she would no longer be in pain. I'll always miss her, but now it won't be the greedy way about how I wanted her to fight the pain so she would live for me. In a way she did fight. She didn't give up until this illness got her, and for that I am so proud of her. She died on April 26, 2012 at 9:53 p.m.

I still blame myself for not being good enough. Not loving her enough, but I'm glad my baby is okay somewhere in heaven with my brother's departed guinea pigs Marshmella and Tyler.
Join in and write your own page! It's easy to do. How? Simply click here to return to Your Pet Loss Stories - All Other Pets Stories .