Your Pet Loss Stories'My Little Munchkin Passed Away Tonight'

Sept 6 2009
by Ozreal
(Ma suga town Calif. U.S.A)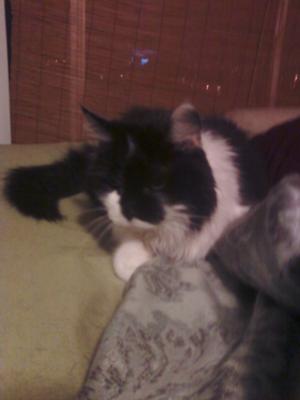 I don't really know how old she was. I was asked by an Executor of an Estate I was working for if I could drop off this Cat to the Pound on my way home, like this Cat was a piece of trash. I was so pissed. I had to take this cat home. I named her Munchkin and at first she would just hide under the bed. She was missing a front fang and had grey hair throughout her coat.

My friends kept telling me that cat was not going to live much longer and you're just going to be heart broken again (My roommate's cat passed away a few months earlier and I took it really hard, but that's how I found Bunny and this Site.) But I felt this cat still had some quality life left and who am I or anybody else to say when an animal should die out of just being too old!

Eventually Munchkin and I bonded and I was blessed with the love and trust of an animal. She would always come up on the bed and cuddle up to me and start grooming my hair which was kind of gross and cute at the same time. She was so adorable I had to be careful not to hug her to hard because how of fragile she was.

I am so numb right now, totally scatted in thought I haven't told any friends or family yet that she passed. I buried her out in the yard and could feel myself wanting to drink or use over this. Which I'm not but I really feel like it. Keep thinking there's something I could of done to save her. I guess it was her time but it feels too soon. I know she was happy all the way till the end and I'm glad we crossed paths on this Earth and I know we will meet again, it just hurts really Bad right now. Thank you Bunny for this site I don't know what I would do without this. Sorry for rambling on just really hard to gather my thoughts right now.
Click here to read or post comments
Join in and write your own page! It's easy to do. How? Simply click here to return to Your Pet Loss Stories - Cat Stories - M - O.