Your Pet Loss Stories'My Little Tiger'
by Sm
(Mia Fl)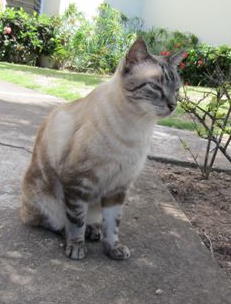 My little Ti ti
Although he was not officially mine, he was always around my apt. He ate there and slept there or just hung out. He was a loving cat who was so happy for the little treats he got. He loved to roll around in the dirt and he loved to sleep. He could sleep anywhere. He loved coming on my bed and standing on me, and then going into the comforter to get comfy.

He died yesterday and my tears cannot stop flowing for him. I have my beloved Lion still with me, which I am so grateful for, but the loss I am feeling for Ti Ti as I called him is heart breaking.

RIP Tiger.. I know you are in Cat heaven where you can get all the treats you want and sleep as long as you want without anyone bothering you.

I love you and miss you so much.
Join in and write your own page! It's easy to do. How? Simply click here to return to Your Pet Loss Stories - Cat Stories - S - U.