Your Pet Loss Stories'My Precious Buck'
by S. Sweeney
(Atlanta, GA)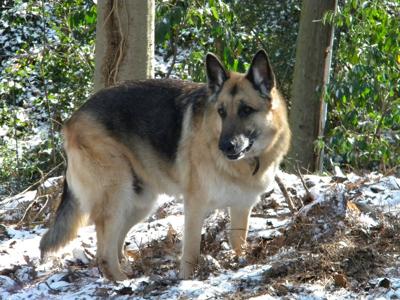 Buck - 2010
My family and I chose Buck from a litter of four when he was five weeks to the day. We picked him up the following week (Mother's Day) when he was only six weeks old. For the next ten years, I worked hard and happily to keep him healthy and keep him in our family.

Buck was bred to be a guard dog and not really an urban house pet. Notwithstanding this fact, we fell hopelessly in love with him and worked tirelessly to make sure he was happy and a valued pack member. It's no secret that he was my "favorite" child.


Buck turned 10-years-old on April 1, 2010 and crossed over into heaven on Easter morning, in my arms. It was a painful, gut wretching decision that the whole family made in order to stop his suffering. The doubt of whether or not I/we made the right decision was insufferable until I happened upon a great quote by Kahlil Gibran: 'Doubt is too lonely a pain to know that Faith is his twin brother'.
If there are spirits among us (and I believe there are), my precious Buck and all of your precious-beloved pets that have crossed over are right here among us and happy that we cared enough about them to make the decisions we made.
We chose to have Buck cremated and I am so happy we did this. I hold his ashes and a small satchel of fur, in my arms often. I emphathise with everyones grief on this site. You are not alone. The love we pet-lovers feel for these precious creatures is very intense and authentic love.
I am so thankful to have loved and continue to love my precious Buck. God Bless all of you and your angel pets.