Your Pet Loss Stories'My Short, But Memorable Time With My Baby Bella'
by Stephanie
(Kiln, Ms)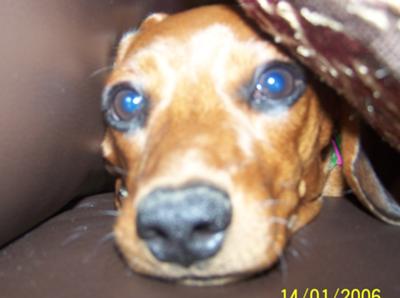 Sweet Bella
I received Bella (a joyful little dachshund) from my sister who could no longer keep her. Bella was about four months old at the time. I fell in love with the little pup the first time I layed my eyes on her. Bella loved to love up on you. She would give kisses to you all day long. She became my shadow! Every where I went, Bella was right there with me.

She followed me all around the house, no matter what she was doing if I left the room, there she was right behind me.

Bella had such a sweet personality. When you talked to her, you could tell she knew what you were saying. Or she tried really hard to figure it out. She was very easy to house train. I taught her to ring a bell to go out whenever she needed to. I always listen to music while cleaning. There would be my Bella dancing with me all around the house. She loved to play hide and seek with me also. We had so much fun together always.

Bella loved to lay in my lap whenever I sat down, and she always slept right next to me at night. When I woke in the morning, she was there to greet me good morning by licking me up on my face.

Bella passed just a few days ago, suddenly (She was only fourteen months old), so I didn't have much time with her. I feel like I've lost my best friend in the whole entire world. I am totally lost without her. She will be forever in my thoughts, and my heart.

I miss you Bella (My good little girl).

Love you Always!
Click here to read or post comments
Join in and write your own page! It's easy to do. How? Simply click here to return to Your Pet Loss Stories - Dog Stories - A - C.