Your Pet Loss Stories'My "Sister" Maya'
by Tatianna Rodriguez
(Overland Park, Kansas, USA)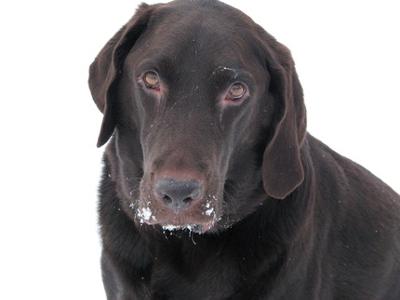 The day I got Maya, my new chocolate lab puppy, was one of the best days I can remember in my life. I was in 3rd grade and we picked the runt of the litter. Who knew the smallest dog of the bunch could be so crazy?? She tore wood off windows, jumped out windows. Both car door and house while the car was MOVING!! Crazy girl.

She was one of the most beautiful dogs I have ever seen in my life. She was the one I told everything to. The one I would sing to. She would cock her head and listen. She always curled up on my pillow (She was a big big dog by the way!) pushing me off the pillow and sometimes, the bed! I didn't care though. I loved her more than anything the world could hold. More than life. More than anything I could ever get from anything or anybody. If it came to it, I would die for her in a heartbeat without even hesistating. Words cannot describe how much I loved her.

One of the worst days of my life was my 12th birthday party with all of my family. We started to notice 2 lumps in her neck. We called the vet and a couple days later, got her examined. After the lab work got back, she was diagnosed with Lymphoma. She was 3 at the time. That was the day my whole world turned upside down. We immediately started chemo to try and save her. She didn't react to the medicine. It helped but no medicine could save her life. She was too far along.

Every night, I would cry myself to sleep praying to God to save her and let her live through Christmas and New Years Eve. I never knew whether she would live to see another day or if she would die in my arms. We celebrated one last birthday for her. We planned to take her to the vet the next day. I wanted to be there but was scared. I was 12. So I said goodbye (the hardest thing I've ever had to do) and went on the bus crying.

When I got home, she was there waiting for me. I screamed! My parents said she wasn't ready yet. She was still happy. But a week later, we knew it was time. I know God was telling me to be there but I wasn't. I hugged and kissed her one last time and left. I still remember the day and time. The worst thing I've ever had to go through. I wouldn't wish this on anyone, no matter how much I hate them.

I'm almost 13 now and it still hurts. 2 of my best friends lost their dogs this week. One last Sunday, one today. Now It's my turn to comfort them.
Click here to read or post comments
Join in and write your own page! It's easy to do. How? Simply click here to return to Your Pet Loss Stories - Dog Stories - A - C.