Your Pet Loss Stories'My Sweet Prince Wobie...'
by Heather Young
(Colorado Springs Colorado USA)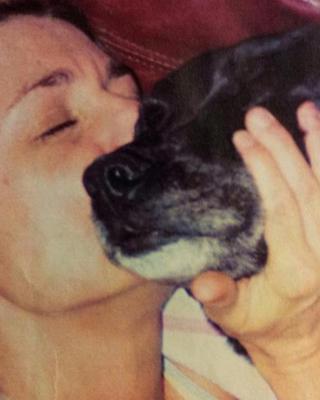 The Kiss...
14 and a half years ago I became a Mom... to a sweet brown eyed, sparky being, Black Labrador Boarder Collie mix...

I was working in a vet clinic in Jackson Hole Wyoming when a woman dropped by from a "no kill" shelter from over the hill and said "If you can't find a home for this little guy... go ahead and put him down..." So I promptly scooped him up, with the good intentions of a Veterinarian Technician, to find him... a good home. He lopped his sweet little head onto my should as to say thank you... and we went home for the night.

I brought home a kennel from the clinic thinking that would be the best and safest place to put him for the evening. The lady from the shelter had told me his name was "Stanley" and although I think the name is a fine and strong one... I simply said "Good night sweet Prince... don't worry... in the morning you will find yourself in a good home... you will be warm and safe in the arms of love!" He squinted his youthful eyes, wise beyond his years... and the lights went out.
First the bump... then the huff...then a small, long low groan that quickly turned into a whimper of displeased sadness... abandonment. I had put him into a back hole of confinement and he wasn't havin' it! Thump! Bump! Thrash! No way lady! I held strong... for about thirty minutes before the responsible vet tech in my head was pushed aside... out came the complainer and into my soft plush feather pillows he flopped... happy... and snoring five minutes later...

That night I had a dream concerning my little man snuggled so peacefully next to me grunting in his sleep... he smelled so new and clean. A Native American Elder road up to me on a horse... he mentioned he noticed I had a new pup and he had brought me a name for him. I told him that I was only keeping him safe so I could find him a home, but agreed 'Stanly' was a sorry name for this cute pup. He gifted me the name Oganash.. I asked him what the meaning of this Indian word was.. and the elder said "This means: 'You never know what your going to get, something new around the corner'.... and that, Kola, is why he is your new boy. You do realize he, picked you... he will teach you many things."

So I had a dog... and when he grunted awake ready for morning teeth on my nose... puppy breath... so sweet... like popcorn! I looked at him and asked "Are you Oganash?" he trotted over to me over the mountains of fluffy blankies and feather pillows, stepped up to my shoulders and began to lick my face (everyone who knows him KNOWS he is a licker)! I knew we would be fast friends. I started calling him 'Wobie Nut'... some how in my brain that rang with the same song as 'Oganash'... And then into Wobie Won Kanobie... my teacher. Never even looked for a new home for him... and do you know... that puppy NEVER did a naughty thing ever. I think he knew I saved him.

I am now sitting at the foot of Pikes Peak.... mourning the loss of my dear long time friend... Wobie. He lived 14 and a half years. His Birthday was October 30th, and I sometimes I would blow up balloons for him to pop for a party! Loved loud noises! I picked up Kiya (Lakota for 'reaching higher') 9 years ago to form a great friendship for Wobie... and it was. Bella' is my little white stray cat that when I brought her home, Wobie licked this kitten from head to toe... and became her Mommy... they continued the ritual of licking up until the day he died.... I would often find my Main Coon Mato (Lakota for "bear") curled up next to Wobs napping in the sun...

Yesterday Wobie's spleen burst from cancer. I held him in my arms and asked him to tell me what to do... although his little body was in such distress... his eyes looked deep into me with fright and worry. I could see, it was time. His bones where tired and his soul has been pushing on with much effort... but it was time.

At the emergency vet hospital I had to make one of the hardest calls of my life. I looked at my boy in his beautiful brown eyes, highlighted with the grey face of the years he had earned, and the elder he had become... and asked: "Is this the end of our road my sweet prince? Have we had enough time together? Do you need to go?" He cried a small echo from his weak body and I knew. I took his ear and softly ran it across my lips... so velvety... I took in his smell... like clean molasses on a summer day... rich and sweet... I held him close to my heart... so sturdy.. but failing... and I laid his head on my leg and said "OK"...

You see, he and I had made a deal. A few years back I had suspected he had cancer. I never told a single person, just him. I told him that when enough was enough... I would let him go.
And it was time to do what I had promised.
The doctor came in and she was so sweet and understanding. I could see she knew all the nights spent on the river with my boy, hiking the Tetons, walkies, bu bye in the car, simple treats that made his eyes shine... and all the things that brought this woman and her dog so close... she saw hearts breaking, not just one. She went back out to the waiting room and gave me a milk bone from the front desk cookie jar... no response. It was time.

I kissed his ear and whispered to him to wait for me on the Rainbow Bridge... that I would someday be walking across it and looking for my sweet little man. His eyes looking into my soul... she gave him a sedative and he breathed a sigh of relief from all his pain... I let him feel that for a minute... and the the next injection into his iv... and he was gone. My teacher. My best friend. I love you to the moon baby boy... some people have kids... I had a dog. The best ever. And just like the night I brought him home... "Good night sweet Prince... don't worry... in the morning you will find yourself in a good home... you will be warm and safe in the arms of love!"