Your Pet Loss Stories'My Sweet Prince'
by Paula Bogard
(Shepherdsville, Kentucky)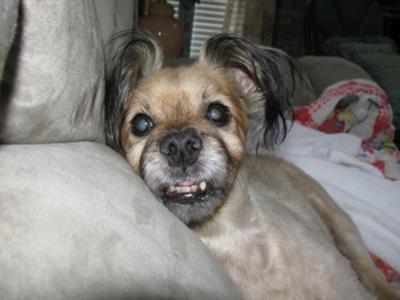 His last day
My sweet baby boy is gone. I took this last picture of him today (7-3-12) before taking him to the vet and putting him to sleep. He was the sweetest little boy, he loved everyone and everyone loved him. He was sick with one thing or another the entire 8 1/2 years I had him... but not anymore. Now he is in Heaven with my dear Dad, now able to see... now he can run wild and eat anything he wants, without pain and no more sticking a needle in his back every day, filling him with fluids, just to get his kidneys to work.

I read the other day that a dog is one of three things - a teacher, a healer or a companion. Prince was all three to me. He was also the love of my life.

I miss him desperately, I will miss his little soft, warm body pressed up against mine every night and waking up to him rolling his face all over mine. I will miss his little head turning from side to side when I talked to him and I will miss him greeting me after I had been gone... his ears laid back, and his tail wagging so hard, it knocked him off his feet sometimes.

He was the perfect pet. He was never destructive, followed every command and only potty'd in the house when he was sick. He was so smart, I would swear he was a person trapped in a dog's body! He would even turn his back to me when he was mad. He shocked my family and friends by how sweet, smart and personable he was. He even turned my 75 year old Mom into a dog lover, who before never even touched an animal, but in the last few months of his life, held him during the car rides back and forth to the vet.

He was diagnosed with kidney failure in February, and I know he held on for me, after losing my Dad on 1-2-12, but let me know on 7-3-12 that he was ready to join his Grampy. After not being able to walk all morning, he managed to stand up and quickly walk over to me and climb in my lap one more time, before my sister arrived to take us to the vet. As I cried and prayed for a miracle, my sister was telling me that if Prince could talk, he would tell me he was ready. As she was telling me this, he lifted his little head and stared me in the eyes, as if confirming she was right.

My vet confirmed what I knew was true, that his little body was simply exhausted, and that yes, it was time to relieve him of his suffering.
So, he went quickly and peacefully, in my arms, with me whispering in his ear, "You are Momma's good boy, I love you sooooo much." And I am comforted knowing that he will be able to kick back in that big ol' recliner in the sky, with my Dad again. At least that is what I choose to believe, because even though the Rainbow Bridge is beautiful, it hurts to think he is up there alone, just waiting for me. I would rather think of him happy to again be with my Dad, his buddy.

Nevertheless, I am devastated. The pain is unbearable, even more than when I lost my Dad. My heart literally hurts, and I now know that a person can truly have a broken heart. I cry all day and only get relief by sleeping. I pray every night that he will visit in my dreams and let me know he is okay, but it has yet to happen. There was a sense of peace when my Dad passed, knowing that he was happy and healthy again in Heaven, but I do not have that peace with Prince. And I can't help but wonder, did I let him go to early? Was there something else I could have done? Logically, I know the answer is no, but sitting here alone, my leg cold, instead of warm from his little body, makes me question anyway.

He was my baby, my best friend, my love. His name was Prince, but he answered to anything I called him, Bubba, Boo Boo, Bubby, Bugs, Baby Boy, Little Boy... the list goes on.

I love you Bubba, more than anything. I will miss you forever.