Your Pet Loss Stories'One Month'
by Grace Roberts
(Norwich UK )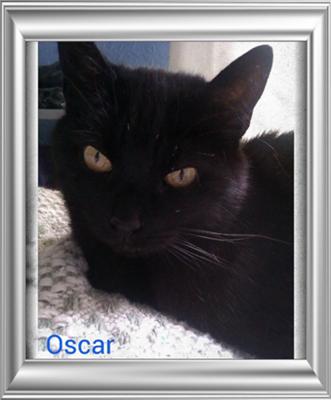 Oscar
It is now a month since my beautiful cat Oscar went to The Bridge and I still suffer the awfulness of pangs and waves.

Finding one of his hairs stuck to my iPad, hurts, going to the shop and he's not there to greet me with a meow when I return home, hurts. Remembering how it felt to rub my arm along his soft silky fur when he lay with his back to me in bed, hurts, and how funny he looked when I cupped his beautiful face in my hands, or when he lifted his bum in the air when I scratched the root of his tail; it all hurts so much and it's painful, so painful and ghastly.

But I have accepted his death, and I would not wish him back, for I know it was his time, and I would have it all to suffer again sometime. Now, I just have to adjust to life without him and that in itself is hard. I live alone by choice but you just have no idea, until they are gone, just how lonely it is when they are no longer with you. I have felt the full measure of what it feels like being alone these past weeks and what a huge hole that little guy has left in my life.

I miss him with every fibre of my being. He was my best friend, the love of my life, and my soul mate.

RIP baby boy, till we meet again. Night night.