Your Pet Loss Stories'Our Beloved Girl, Jasmine!!!
18 Wonderful Years Together'
by Deby Novoryta
(Elk Grove, IL)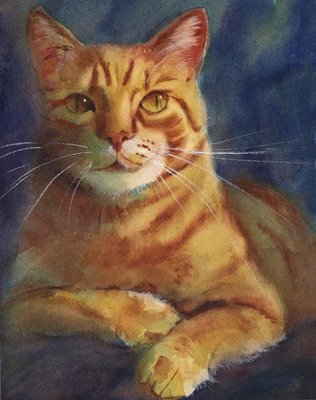 Jasmine
Always having been dog owners, we adopted a kitten from a local shelter. Jasmine was an orange tabby. At the time, we had a cocker spaniel that was getting old. We adopted a male from the same shelter. Shortly after, we had to put our cocker spaniel down due to brain cancer.

Suddenly we became cat people. We adopted two more cats through the years but Jasmine was our first girl. One year ago, she was diagnosed with hyperthyroidism but couldn't take the pills or liquid meds. We decided, at the age of 17, to let her spend her days at peace. We noticed over the past two months that her weight had dropped dramatically but she was still active and chasing with our other two cats.

Last week I noticed that she was really working to walk from room to room but my husband said she was fine. My gut told me to take her to the vet but my husband disagreed. On Labor Day, she was laying in front of her dish but not eating. Suddenly she had a seizure. The Emergency Vet was 45 minutes away and we didn't know what to expect. Suddenly she had two slight seizures. We picked her up, wrapped her in a blanket, and laid her on one of our beds.

For 2 1/2 hours, she yelled out "owwwwww, owwwwwww, owwwwwwww" would wave her front paws, and moan. She seemed so uncomfortable that we began to give her a baby aspirin in warm water every 20 minutes. Our youngest male cat laid behind her for an hour as she moaned. I walked in and out and talked to her. Our other female cat sat at the foot of the bed.

Having put pets down before I can only say that the memory of her crying, heavy breathing, and seizures is more than I want to think about. Our dear girl died after much difficulty. I should have followed my gut; I should have resisted my husband's reluctant behavior. I will never forget what she went through.

We buried Jasmine in our yard -- she lived a good life but died a horrible death. I will always try to explain the benefits of euthanasia -- a beloved pet should never suffer like she did. God help me. I hope she will forgive me for allowing her to suffer so long. I/we will love her for always.
Click here to read or post comments
Join in and write your own page! It's easy to do. How? Simply click here to return to Your Pet Loss Stories - Cat Stories - J - L.