Your Pet Loss Stories'Our Little Buddy'
by Cindy Rightmyer
(Peterborough, ON)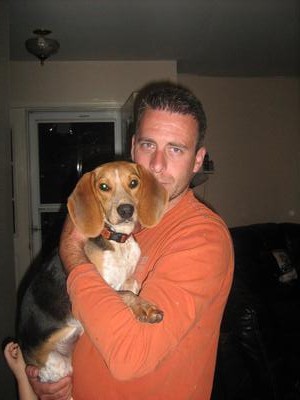 My family and I adopted "Buddy" from the Peterborough Humane Society. He was a beagle/hound dog. He was 1 of 6 in his litter. I remember picking him out because of his spark like energy. We brought him home and the fun began.

Being a young family with two girls, Buddy added laughs and more love to our home. He was a Daddy's boy for sure. He was so excited when his Daddy came home from work, jumping and barking his little heart out! The girls always loved our daily walks around our neighborhood. We have two cats and he always tested their patience. He was a hollar. He loved riding in our boat. Rode right up front with his daddy.

We only had him for 7 months and it it was a life changing 7 months. My little "Budinski" was taken from us way too soon. It was Thanksgiving dinner and Buddy was outside of my in-laws house. The in-laws have two older boarder collies and they were all enjoying the crisp fall weather.

We were all heading out to the front porch with three doggy treats when my husband heard the loudest yelp ever! The worst came to mind and then we noticed a person doing a U turn on the highway. With my 18 month old in my arms and no shoes I went running full speed towards the highway, when my husband came running down the driveway with Buddy cradled in his arms. He was already gone.

My heart still hurts with pain. I feel so much guilt and remorse. My little man is gone. And our family puzzle is missing a piece. We will love you always and forever Buddy. R.I.P.
Join in and write your own page! It's easy to do. How? Simply click here to return to Your Pet Loss Stories - Dog Stories - A - C.