Your Pet Loss Stories'Poster Child Pitbull'
by Meghan
(Maryland)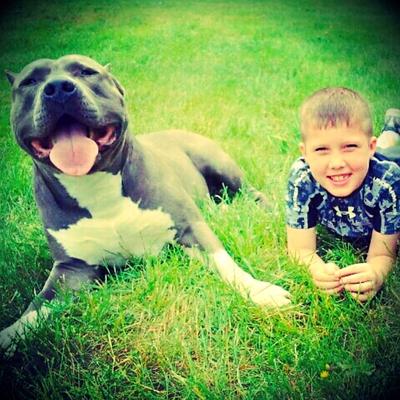 Yesterday morning the four of us woke up and took Zeek and Deezel down to the stream behind the house. It's one of their favorite places to be. We brought them back up to the house and gave them both baths. We came in the house and sat on the living room floor on a blanket with Zeek and cuddled him even Deezel while we waited for the vet to arrive. When she knocked on the door I felt like I was going to pass out or have an anxiety attack.

From the time the vet arrived to the time she left it was very quick. We all of course cried but I have to say that watching Deezel really broke my heart. While he laid right there with us he kept smelling Zeek as if he knew something was wrong. It was like a dramatic scene out of a movie but it wasn't a movie, it was real and it was happening in my living room.

My husband and the Dr. carried him out and Deezel sat up with his eyes wide and his ears propped. He followed and stopped at the doorway of the door and watched them put him in the van. He then went outside and kept smelling the van while also jumping on it. I called him back in the house and he didn't want to come right away. He was sad and confused as we all were. It was heart wrenching. I wouldn't have chosen to do this any other way. It was nice to be in the privacy of our own home and nice that Zeek was relaxed and comfortable.

He is being cremated. When it's time for Deezel to go we will do the same for him. He is 14 and Zeek was 5. Once we have the ashes for both of them we will put them together since that's how they always were. They were inseperable and Zeek was truly the best dog I have ever had the pleasure to own.

He touched so many lives as everyone he came in contact with loved him. He changed so many people's opinion on pitbulls even the toughest of minds. He didn't have enough time here on this earth because I wish everyone could have met him. People called him the gentle giant. He NEVER not even once while playing showed any type of aggression. He truly was a blessing to our family and to his breed.

Remember the Youtube video where I turn on the alarm clock and he sings to it? I told my husband he had to take out that CD because I will never be able to hear that song again. He didn't just sing once, he sang every single morning. So he took it out yesterday and put another one in to find that the CD player is now broken. It won't play another CD and the first song that played on the radio when the alarm went off this morning was I Am The Warrior by Pat Benatar. He was so strong and so tough being so selfless and not letting us know he was sick all that time.

We are all very sad. My 8 year old son is doing considerably well as well as my 18 year old daughter. My husband and I are having the hardest time. Waking up this morning was so very hard without my big baby in the bed right next to me. I know it will take time and it will get easier but the heartache never truly goes away. He took a little piece of all of our hearts with him yesterday and I believe we will see him again. We will all be a little saddened by our loss forever and we will always love him.

Join in and write your own page! It's easy to do. How? Simply click here to return to Your Pet Loss Stories - Dog Stories - Y - Z.