Your Pet Loss Stories'Remembering Madeliene'
by Thea
(Wisconsin)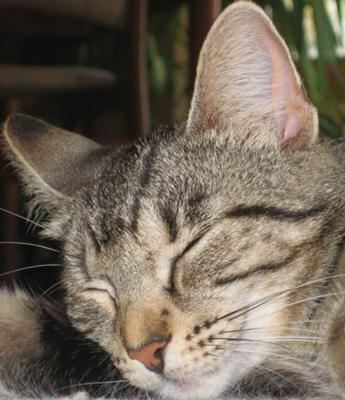 Maddie
I remember the first time that I saw her. It was a week before Thanksgiving U.S.A. and I was washing the downstairs floor. I opened the window to dry the floor then proceeded to go upstairs for a bit. When I came back down the stairs, our male James was being yelled at by a tiny cat who happened to be sitting atop our 8 foot stereo system. Obviously, she happened upon our open window and if anyone knows about Wisconsin winters, it starts to get really cold in late December.

I called my fiancé and he came and scooped her up in his arms. I could not believe how readily she let him hold her. I believe that he was the first human to do so. She made it clear to us that first day that she decided she was going to live in our home. We already had James and Destiny (definitely husband and wife - another story - another time.) The next day we made an appointment with the vet and she turned out be a 7 month old non-spayed female. We left her at the vet's to get spayed and all of her shots and picked her up the next day. I could not believe that the day after she came home from the vet's she was jumping around and playing. The doctor was very qualified and Madeliene recovered quickly.

Over the next year, we had the perfect family. James had a pride of two lovely ladies and Madeliene and Destiny adored him. They played, slept in the sun together, ate together, slept together. Madeliene wagged her tail so much, I never saw a cat wag her tail the way she did and when she woke up with me in the morning I saw her smile at me because she was happy to be a part of our family.

Then, Chuc showed up. We saw him licking a dead and frozen rabbit in the front yard around mid January. We felt sorry for him and I put food out for him. After much coaxing, I put him in a cage the following September (yes, it took him that long to come to me) and we had him neutered and he received his shots. He was about the same age as Madeliene and we figured given their same body movements and some markings that they were litter mates. Well, for the past year we had to keep Chuc separated from Madeliene via a gate between him and our bedroom. Our bedroom became the girls room, except for my fiancé because Chuc was too rough on Madeliene to leave her alone with him.

We thought that just because she was so tiny for her age that he picked on her. Well, last Saturday, Madeliene was hit and killed by a car as she played in the front 1st acre of our home. We feel that she would have stayed closer to the house if Chuc had not forced her, out of necessity, to get as far away from him as possible. I am devastated and overcome with grief because this little fighter, this little girl was determined to go against the odds and never experience one of Wisconsin's harsh winters. She came to us for protection and we should have seen that Chuc and Madeliene did not get along.

Sometimes, I think that we try too hard to justify a situation that is unlivable. This time it cost our spunky girl her life. We love Chuc and he has become very subdued since her death and I think, in his own way, he misses her too. If I had to do it all over again, I would have protected her better. I would have sought out pet counseling to see if things could have been worked out between Madeliene and Chuc or if one of them would have been better off with another family. I love my cats though and I tried to make it work. So I will never know.

We buried her in our shade garden. I have coffee in the morning with her and I tell her that I love her. I needed to write something about her because I did not get to know her for very long and I did not want to forget. So, farewell my doll, our Smidge. I hope that you are playing with others now who you can get along with and who love you as much as I did.