Your Pet Loss Stories'Rest In Peace Little Buddy..'
by Allisha Smith
(Winnipeg)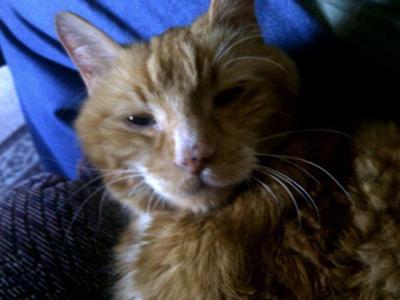 My eleven year old orange tabby cat Ripples had to be put down last night after we just found out that he had been dealing with untreated Diabetes his whole life. He never showed that he was in pain the whole time that we had him, and nothing had ever gone wrong until the day of his passing when he stopped eating hard food and had no energy or bowel control.

He had been slowly losing weight over the past year and we didn't think too much of it, because we had recently put the cats on diet food. Ripples loved treats and milk and he would always come to the door when I would get home and be very affectionate. He was a very communicative cat. He would always meow back at you when you would talk to him. And he was honestly the best cat anyone could ask for.

We had to put him down, and I held his paw until he drifted off to sleep. Losing him was like losing a part of me. I just know that we did the right thing and I am thankful that he passed warm and comfortable.

Rest in Peace Ripple Chips.
Join in and write your own page! It's easy to do. How? Simply click here to return to Your Pet Loss Stories - Cat Stories - P - R.