Your Pet Loss Stories'Rigo is in Heaven'
by Caroline
(Puerto Rico)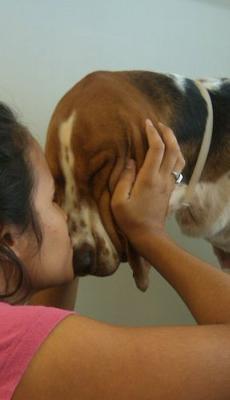 This is him at the hospital :(
Well, yesterday my dad called me to let me know he had died. I got Rigo when he was 1 month old he was my first dog and he was my everything I used to caress his belly until he was asleep he used to wake me up at 5am to let him out or just to let me know he was awake.

He got sick so I took him to the hospital and we discovered he had parvovirus so he was hospitalized for five days. He got depressed there because he was alone and I believe he thought I was gonna leave him there but I just wanted him to live. I didn't really know how bad parvovirus was so even tho I felt he was gonna die it was just impossible, how is Rigo going to die?

Well the day before I went to visit him as always and they said he was really bad and that they were worried. I cried a lot because I felt he was going to die I was really worried and when I got back I washed his face and I tried to cheer him up also he drank water. He had not eaten anything since I left him in the hospital :( (poor dog) he was eating well at my house but he was vomiting.

The Dr even said he got up and she thought he was doing better but the next morning he was found dead. I couldn't believe it I've been crying all the time and yesterday I drank with my girlfriends and I felt asleep crying and asking for forgiveness. He never wanted to be there and I left him there. I feel so guilty and I miss my baby I can't believe he left and he was just 9 months old.

He was a basset hound I had been asking for a dog for like two years and I never thought of having a basset hound but he was the best thing I had in my life. I'm dying and I would write more but I'm just devastated I cant believe my Rigo left. :\ He was the best dog period. Love your pets they are irreplaceable.
Join in and write your own page! It's easy to do. How? Simply click here to return to Your Pet Loss Stories - Dog Stories - P - R.