Your Pet Loss Stories'R.I.P. Thomas Yorke Williams'
by James
(Merced, CA)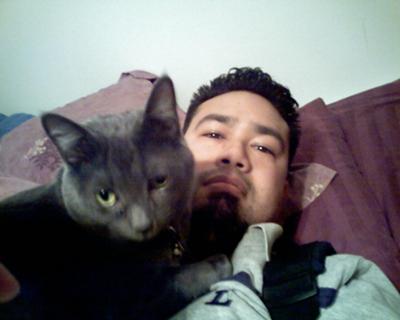 Wow I had no idea a site like this existed. I normally cope with things by writing so I wrote about my loss as though it were an article. I tried to add some humor to it in an attempt to make myself feel a little better:

Thomas Yorke Williams
2004 - 2009

MERCED, CA (AP) -- The apparent victim of a brutal dog mauling, Thomas Yorke Williams of Merced, CA, tragically lost all 9 lives on Monday afternoon. Thomas is survived by his loving parents/owners James, Taneka, and Chloe Williams and brothers Q-Tip Phife and Sugie.

Born as "Louie" in Santa Monica, CA in February of 2004, Thomas was the remaining kitten as part of a litter of 8 British shorthairs. Louie, later renamed "Thomas" by his adoptive parents, was born with a distinctive extra fold of skin over his left eye. This feature seemed to have turned away many prospective adoptive parents as all of his fellow siblings were adopted long before him. This was just fine with his owner, James.

"Yes, his eye was very noticeable, but the first thing that caught our attention was how affectionate he was even as a kitten. He immediately began purring upon first contact." James' affinity for the British rock group Radiohead prompted him to name Thomas after the group's lead singer. "If you took a side-by-side comparison of the two, the similarities are startling," said James, likely referring to the lead singer's similarly affected eye.

Though the details behind Thomas' demise remain sketchy, there are some in the neighborhood who claim to have an inside track. "I don't wanna be accusing nobody or come off as a dog breedist, but 'dem dirty Pit Bulls down the block have been known for causing some drama, 'ya feel me?" said hardened street cat and former catnip dealer best known in the streets as Killah Klaws. There have been unconfirmed reports that Killah has had ties to the Black Panthers. With his gold teeth slightly flashing just below his whiskers and cloaked behind dark sunglasses and a beret, Killah continued, "All I gots to say is that them 'Bulls best watch they back. Everyone 'round here's got mad love for T (Thomas). T was a soldier...a soldier." The neighborhood pit bulls have yet to be formally charged of any wrong doing.

Thomas' feline brother, Q-Tip, who is a hearing impaired white Turkish longhair, said through a sign language interpreter, "Thomas acted as my ears and I, as the extra half eye that God never granted him. Even though he would occasionally trick me into thinking that our food was coming when it wasn't and would sometimes pounce on me with all of his 20 lbs, he will be greatly missed. I still can't believe he's gone. I keep waiting for him to eat out of his dish next to mine."

The one person who has been hit the hardest so far as been James. "Thomas was my first 'real' pet. Q-Tip was adopted before him but he was always considered to be my wife's cat. Before Thomas, all I ever had growing up were parakeets and maybe a goldfish or two. Thomas was one of the most affectionate creatures, human or otherwise, I had ever come in contact with. He was just such a unique cat. He would always want to play fetch with crinkled up pieces of paper and would always respond whenever his name was called. I will miss joining him in taking a cat nap or two and am saddened that the budding relationship between he and my daughter will never come to full fruition. I know that he's in a better place now, but the pain of his abscence has been crushing."

Thomas was laid to rest in the backyard of his home.