Your Pet Loss Stories'Ruger the Gentle Giant Rottweiler'
by Jeff S.
(Catawissa, PA)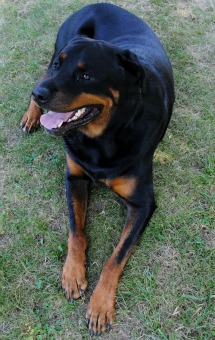 Ruger - The Gentle Giant
Ruger was born on November 10, 2006 and I gave him to my wife as a Christmas present that year. Ruger immediately became the focus of our entire family. Our sons, at the time, were 4 and 7, they played hard with Ruger and some times he played hard back, rolling on top of them and licking their faces with his already huge tongue.

As Ruger grew so did his and our love for each other. He would always be ready to chase a stick and refuse to give it back or snag the ball our boys where playing with and put a huge hole in it and fling it around like a rag doll.

In the last four months we saw a change in Ruger that was not very fitting for him. He started to just growl every time our sons would walk by him. In the last month he started growling at my wife each time she walked by him. And two weeks ago he did the totally out of character act, he snapped at our youngest son nipping his little finger.

After doing some research on line I took Ruger to our vet for a check up. It turned out he had cancer and it was affecting his brain. We took several days to decide what we wanted to do with him since our love for him was and still is very strong. Our boys pleaded with us to give hime "one" more chance, not understanding Ruger wasn't going to get better.

We prayed each night asking for guidance, and on July 18, 2011 we layed Ruger to rest. This was the hardest decision we have had to make and felt it was for the better of everone including Ruger. We rent where we live and therefore decided to have him cremated so he can always be with us no matter where we live or move.

I have never been this close to an animal and believe you and me I cried for hours before and after. So for those of you big guys out there that feel the urge to cry when your pet dies jsut find that alone space and let it out you will certainly feel better after and it will allow you to be a LITTLE stronger for your other family members when that time comes.

May god place his hands on you and your pets and keep you all healthy and happy for years to come.

RUGER, R.I.P Gone but never forgotten in our minds and in our hearts.
Click here to read or post comments
Join in and write your own page! It's easy to do. How? Simply click here to return to Your Pet Loss Stories - Dog Stories - P - R.