Your Pet Loss Stories'Spirit'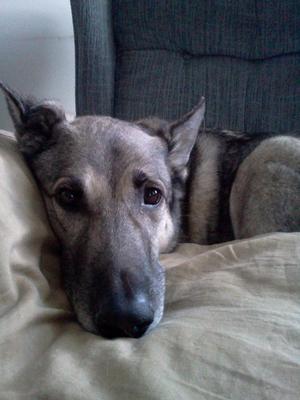 My handsome Wolfman
I once had this beautiful boy named Spirit. He was a German Shepherd, Wolf, and Husky mix. My family had saved him from my aunts house, where he was being abused. Tied to a small chain in the hallway next to the stairs. He once drank a tub of anti-freeze and all my aunt had given him was milk. He was also hit by a car on two occasions.

Surprisingly he survived all of this, so Spirit was a fitting name. Although he lived through those events, he didn't survive the cancer. We noticed he wasn't acting his usual trouble making self. He would wheeze and cough and was always laying down. My brother took him to the vet where he was diagnosed. My brother tried hard to keep him alive. Looking all over the internet for things that could help. We changed his diet, gave him fish oil. We tried everything, but in the end he had to be euthanized.

We all miss him very dearly, even his brother Apache showed signs of depression when Spirit disappeared from our home.
Click here to read or post comments
Join in and write your own page! It's easy to do. How? Simply click here to return to Your Pet Loss Stories - Dog Stories - S - U.